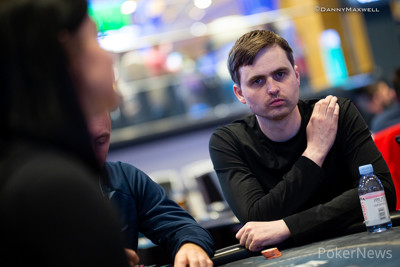 There was a whole bunch of chips in the middle on a



board in a hand involving Martin Kabrhel, Tofik Murati and Christian Nofal.
Murati and Nofal were both all in — Murati 54,100 and Nofal for 88,900 — and action was on Kabrhel. He was taking his time with his decision, so much so that the clock was called.
"He does this," muttered someone at the table.
"He does this all the time," concurred another. Several players got to their feet with impatience as the seconds ticked down. Eventually his hand was declared dead and the hands of Murati and Nofal were tabled.
Tofik Murati:



Christian Nofal:


Nofal had flopped a flush, but Murati had the ace of diamonds. The turn

and river

bricked and Murati was eliminated.
| | | | | | |
| --- | --- | --- | --- | --- | --- |
| Christian Nofal | | | | 170,000 | |
| Martin Kabrhel | | | | 49,000 | |
| Tofik Murati | | | | Izpadel | |