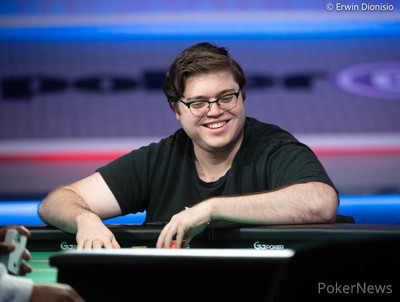 Stud
The short-stacked Ian O'Hara had the bring in and then Ray Henson completed to 80,000. Jaswinder Lally put in 120,000, seemingly by accident, and given the amount it was ruled he had to raise to 160,000.
That prompted O'Hara to call off for 75,000 total, Henson came along, and there was a side pot on the line. Henson then bet fourth street and called when Lally raised. On fifth, Henson checked and folded when Lally bet 160,000.
Ray Henson:


/



fold
Jaswinder Lally:


/




/


Ian O'Hara:


/




/

Lally revealed he had improved to a diamond flush on seventh, which rendered O'Hara's last card moot as he was drawing dead.
"Stud master," O'Hara knighted Lally before exiting the stage.
| | | | | | |
| --- | --- | --- | --- | --- | --- |
| Jaswinder Lally | | | | 5,500,000 | 900,000 |
| Ian O'Hara | | | | Izpadel | |