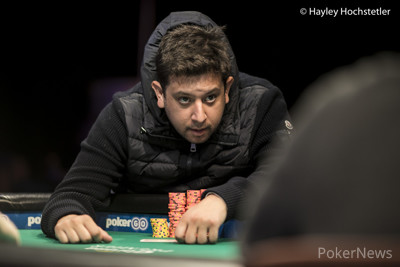 In a blind-versus-blind battle, Jared Bleznick raised from the small blind and Kyle Miaso defended. Bleznick stood pat and Miaso drew two. After the draw, Bleznick made a continuation-bet and was called. Second draws went pat and one with Bleznick continuing again and Miaso calling. The final draw went pat and one again and Bleznick checked. Miaso cut out a bet and Bleznick assessed the situation before tossing in calling chips.
"Straight," said Miaso. Bleznick tabled





and took down the pot as Miaso tossed his cards into the muck.
On the following hand, Bleznick opened from the button and Jesse Hampton defended his big blind. Hampton took one and Bleznick two. Hampton then led out and Bleznick called. The second draw went pat and one and Hampton bet again. Bleznick made the call and the final draw was pat and one again. Hampton checked and Bleznick looked at his final card before gently pushing a bet forward. Hampton looked back at his cards and made the call.
Bleznick tabled





and Hampton mucked as the dealer shipped the second consecutive pot to Bleznick.
| | | | | | |
| --- | --- | --- | --- | --- | --- |
| Jared Bleznick | | | | 2,050,000 | 725,000 |
| Jesse Hampton | | | | 150,000 | -275,000 |
| Kyle Miaso | | | | 145,000 | -400,000 |