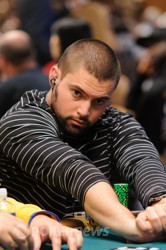 Over on Table 10 in the Gold Section a player called the clock on David "Doc" Sands after about 20 seconds. The floor supervisor arrived and asked the dealer if he's had a reasonable amount of time to make a decision.
The dealer replied no and the floorman refused to start a clock on Sands.
"He takes eight seconds to open a pot," the complainer said.
"Sir, we're not playing online poker," the floorman replied.
"So I can take 20 seconds to make every decision?" the complainer asked.
"Let's draw a line somewhere between common sense and courtesy," Michael "Carwash" Schneider said.
The floor instructed the table to play cards because there was a hand in progress.
The result of the hand was Chad Wiedenhoeft fout-bet all in and Sands called. Sands held


and Wiedenhoeft held pocket eights. Sands didn't connect with the board and was eliminated.
He walked away shaking his head.
| | | | | | |
| --- | --- | --- | --- | --- | --- |
| David "Doc" Sands | | | | Izpadel | |