Event 26: $3,000 Pot-Limit Omaha
Dan 2 končan
| | | | | | |
| --- | --- | --- | --- | --- | --- |
| Vadzim Kursevich | | | | 741,000 | 221,000 |
| Romik Vartzar | | | | 628,000 | 401,000 |
| Oleksii Kovalchuk | | | | 565,000 | -105,000 |
| Khiem Nguyen | | | | 439,000 | 132,000 |
| Tom Chambers | | | | 379,000 | -41,000 |
| Robert Williamson III | | | | 378,000 | 13,000 |
| Austin Scott | | | | 306,000 | 68,000 |
| Brett Richey | | | | 304,000 | 131,500 |
| Dutch Boyd | | | | 254,000 | -6,000 |
| Thomas Pettersson | | | | 243,000 | -103,000 |
| Scott Stanko | | | | 212,000 | -36,000 |
| Jon Hoellein | | | | 177,000 | 131,000 |
| Victor Saedon | | | | 164,000 | -48,000 |
| Galen Kester | | | | 123,000 | -21,000 |
| John Racener | | | | 117,000 | 10,000 |
| Steve Merrifield | | | | 103,000 | 3,000 |
| Erik Seidel | | | | 71,000 | -21,000 |
| Raul Paez | | | | 41,000 | -49,000 |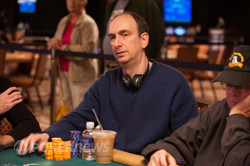 That's it Ladies and Gentlemen, Day 2 of Event #26: $3,000, Pot-Limit Omaha, is in the books and 18 players have found that magical combination of skill and fortune to make it through to the final day. Our chip leader is Vadzim Kursevich and he has bagged and tagged 741,000 chips. Let's guide you through to the story of the day so you can see for yourself how Kursevich rose to prominence.
Once upon a time (well ten levels ago) there were 138 poker players all desperate to have a World Series of Poker (WSOP) bracelet draped on their wrist. The chip leader was Joseph Ressler but the lead at the top was a tight one. Our first superstar to leave the tournament was Phil Ivey…well Phil Ivey's stack! Ivey had registered for this event but had made the final table of Event 24: $5,000 Omaha Hi-Low Split 8-or-Better. Unlike the virtual felt, multi-tabling live events is a little challenging - even for Phil Ivey – and he was blinded away to zero early in the first level. But what does Ivey care? As we type he is one of three players still vying for that piece of gold and we wish him all the best (unlike his friends and foes alike who have bracelet bets with him).
Two talented females were next to depart. Former World Series of Poker Europe (WSOPE) Main Event champion Annette Obrestad and recent European Poker Tour Grand Final runner-up Lucille Cailly both departing as early as the first level. At the same time the ladies were leaving Robert Williamson III was growing stacks like Mark Zuckerberg grows money. The WSOP bracelet holder and Pot-Limit Omaha (PLO) wizard started well and played great all day. Williamson finishing with 378,000 chips.
Our defending champion Sam Stein was a Day 1 surviver and he doubled, early, through Max Kruse to give him some chips to play with, and play with them he did. Stein had an amazing day but eventually left us in 35th place after being eliminated by the dangerous Vadzim Kursevich. Hats off to you Mr. Stein.
Then the trio of Igin Viacheslav, Chino Rheem and Raul Paez started to create a gap between them and the rest of the group. All three players getting heavily involved in the action and the chips were attracted to them like iron filings to a magnet. Nam Le, Kevin Saul and Jerome Bradpiece each falling to the terrifying trio.
We approached the money bubble fast and it was breached in super-quick time. The poor soul who came so close to earning a min-cash was Chance Kornuth. Kornuth eliminated by the impressive Galen Kester to earn the unfortunate mantle of Bubble Boy.
As usual, as soon as Kornuth was eliminated the dam broke and players left the field in droves, including WSOP bracelet winner Tex Barch, high stakes everything player Isaac Haxton and the talented Shawn Buchanan. At the other end of the table Robert Williamson III and Scott Stanko joined the terrifying trio at the top of the table.
After the belly filling break it was Chino Rheem who was the first player in the trio to make some headway. He eliminated Chris Roth to take the chip lead over the 400,000 mark and was followed closely behind by Vadzim Kursevich. At the other end of the charts we lost two WSOP champions. Matt Perrins and Ted Lawson falling to the swords of Mike Gorodinsky and Scott Stanko respectively.
Then Thomas Pettersson took advantage of the gamble that makes Chino Rheem so exciting. On a flop of



Scott Eskanazi bet pot, Pettersson moved all-in and Rheem called to create a 460k pot. Pettersson had top set and Rheem was baying for a club that didn't leave the deck. Pettersson was our new chip leader and Rheem was scythed in half.
Rheem then hit disaster after disaster before amazingly being eliminated. He was all-in versus Brett Richey and then Oleksii Kovalchuk and each time Rheem held the upper hand with


hands versus the


of his opponents. Both times they out-flopped him and Rheem was discarded to the Day 2 has-been list.
With Chino Rheem out of the equation the chip lead was passed around like a game of pass the parcel. Eventually when the music stopped the parcel was in the hands of Vadzim Kursevich and when unwrapped it contained 741,000 chips.
So 18 hopefuls will be returning at 14:00 PM to finish the business and we will be there with them, make sure you are too!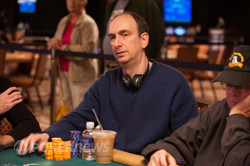 Erik Seidel has eight World Series of Poker (WSOP) bracelets sat on top of his millions inside Chez Seidel Vault and you can see why. He has had a short stack all-day long but seems to have the patience of a mother looking after twelve screaming kids. During the last break we saw Seidel giving himself a power nap and it seems to have paid dividends as he has just doubled up. Nothing exciting…just an all-in pre flop encounter.
Board:





Seidel now has 92,000 and Paez has dropped from grace; he too has 90,000.
| | | | | | |
| --- | --- | --- | --- | --- | --- |
| Erik Seidel | | | | 92,000 | 4,000 |
| Raul Paez | | | | 90,000 | -131,500 |
Two big pots for Robert Williamson III and Huykhiem Nguyen.
We joined the action on the flop with



staring at the ceiling. Williamson was in the big blind and he was being battered with bets by Steve Merrifield laying siege from the button. Firstly, Merrifield bet 15,000 on the flop, then 28,000 at the sight of the

turn and finally 65,000 at the sight of the

river. Williamson just sat there looking ice cool and calling down each street as if he was ordering martini's at the bar.
"I have two pair," said Williamson (and he knew he was good).
Merrifield showed




for the airball and Williamson showed




for the two pair.
At the next table we just about saw Tom Chambers paying off a big bet to Huykhiem Nguyen on the river. The board was showing





and Nguyen held




for jacks full.
| | | | | | |
| --- | --- | --- | --- | --- | --- |
| Tom Chambers | | | | 420,000 | -200,000 |
| Robert Williamson III | | | | 365,000 | 120,000 |
| Khiem Nguyen | | | | 307,000 | 29,000 |
| Steve Merrifield | | | | 100,000 | -170,000 |
Austin Scott bet 12,000 from under the gun and four players called including Scott Stanko in late position. The action checked through to fourth street on a board of




and Scott bet 26,000; only Stanko called. The river card was the

, both players checked and Stanko won the hand tabling




.
| | | | | | |
| --- | --- | --- | --- | --- | --- |
| Scott Stanko | | | | 248,000 | 34,000 |
| Austin Scott | | | | 238,000 | -42,000 |
We joined the action on a flop of



, John Racener checked out of the big blind, Mike Gorodinsky bet 14,000 from under the gun, Oleksii Kovalchuk called on the button and Racener folded.
Onto the turn and we had the

. Gorodinsky had 64,000 behind and he moved 27,000 of them across the line. Kovalchuk look composed and made the call. The river card was the

and while everyone was expecting Gorodinsky to move all-in he waved the white flag. Kovalchuk moved all in, when checked too, and Gorodinsky's hand went into the muck.
That left Gorodinsky with just 37,000 chips and he was eliminated a few short hands later, but unfortunately we did not see the action.
| | | | | | |
| --- | --- | --- | --- | --- | --- |
| Oleksii Kovalchuk | | | | 670,000 | 90,000 |
| Mike Gorodinsky | | | | Izpadel | |
Nivo:

18
Slepe stave:

3,000/6,000
Ante:

0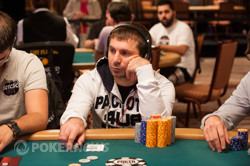 Viacheslav Igin has had a great tournament. It is his first ever Pot-Limit Omaha cash and it looked like he loved every hand (until the last one that is). His roller-coaster ride has just ended and the end result is a new chip leader called Tom Chambers. The details are a bit sketchy but we have the final hands and the board for you.
Board:





Chambers hits the wheel and Igin is out.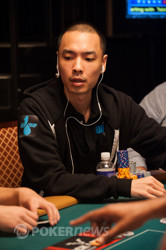 We just told you that the Chino Rheem juggernaut had lost a wheel, now we can report that it has just plain ran out of gas. World Series of Poker (WSOP) bracelet winner Oleksii Kovalchuk opened to 17,000 in the cutoff, Chino Rheem made it 77,000 from the button, Kovalchuk bet raised the pot as did Rheem and we were all-in.
Just like the Brett Richey hand, Chino Rheem was light years ahead. That was until the flop -



. An absolute distaster for Rheem and the

and

are no good either and the poor unfortunate Rheem is out!
| | | | | | |
| --- | --- | --- | --- | --- | --- |
| Oleksii Kovalchuk | | | | 580,000 | 265,000 |
| Chino Rheem | | | | Izpadel | |