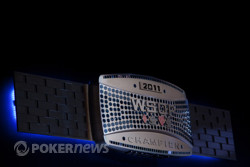 On the first day of the World Series of Poker's most accessible tournaments, the $1,000 buy-in events, the enormous Pavilion Room is charged with a distinctly nervous energy. This is true today as the start of Event #45: $1,000 No-Limit Hold'em draws near, with thousands of excited amateurs anxiously buzzing through the room.
In contrast to the grinding desperation of big-buy in events, where professionals wage war on each other's chip stacks with detached precision, this tournament has the feel of a festival. Players are taking pictures of each other near the WSOP's bracelet display stage, no doubt hoping to take that same stage as a champion three days from now. We saw one player holding a video camera and narrating his own tour of the room, while others intently focus on their poker literature. For many of the players happily holding their tournament tickets this morning, Event # 45 is their own personal Main Event.
Of course, there will also be many notable players and professionals in the field, and we will update you on their play throughout the day. The best in the world will be looking to tiptoe through the Day 1 minefield, capturing dead money as they build their stacks for a bracelet run. A battle between underdog amateurs and skilled, but vastly outnumbered pros will be waged for ten levels, and PokerNews will be here to let you know who emerges victorious.