Event Info
| | |
| --- | --- |
| Prijavnina | $10,000 |
| Nagradni sklad | $1,579,200 |
| Players | 168 |
Informacije o trenutnem nivoju
| | |
| --- | --- |
| Nivo | 28 |
| Stave | 100,000 / 200,000 |
| Ante | 20,000 |
Details to come shortly...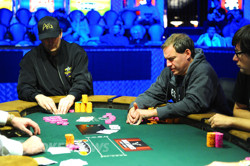 Ted Forrest has seen most of his stack go up in flames in just two hands.
Forrest:


/




/


Eric Rodawig:


/




/

Forrest completed and Rodawig raised before betting every street including the seventh. Forrest called but couldn't beat his opponent's



for just a pair of aces.
The next hand saw Phil Hellmuth limp in on Forrest's bring in.
Forrest:


/




/


Hellmuth:


/




/

Forrest bet fourth and fifth before check-calling sixth. On seventh, he tanked for several minutes before calling and Hellmuth flipped



for a low and sixes which was good for the whole pot.
| | | | | | |
| --- | --- | --- | --- | --- | --- |
| Eric Rodawig | | | | 2,250,000 | 250,000 |
| Phil Hellmuth | | | | 1,400,000 | 50,000 |
| Ted Forrest | | | | 850,000 | -300,000 |
| John Racener | | | | 500,000 | -40,000 |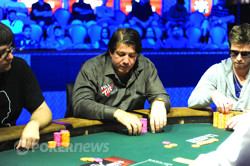 Shortly after busting Mikhail Savinov, David Benyamine is out in fifth place.
First, in a hand against Ted Forrest. The final board read like this:
Forrest:


/




/


Benyamine:


/




/

Ted Forrest completed his bring in and David Benyamine called. Benyamine then check-called fourth, fifth, and sixth street bets from Forrest. Both checked seventh with Forrest tabling



for a pair of aces. Benyamine couldn't beat it and was left with about 350,000.
Shortly thereafter, Benyamine tangled with Phil Hellmuth.
Forrest:


/


Benyamine:


/




/


Hellmuth:


/




/

David Benyamine called the bring in amount, but Phil Hellmuth raised. Ted Forrest folded and Benyamine called.
Both checked fourth street and that was followed by Hellmuth bets on fifth and sixth, both called by Benyamine. On seventh Hellmuth bet again, sending Benyamine into the tank for his remaining 90,000. After about three minutes, Benyamine stuck his stack into the middle, but mucked when Hellmuth tabled



for aces up.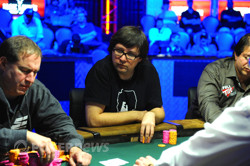 Mikhail Savinov:


/




/


David Benyamine:


/




/

David Benyamine had the bring in and Mikhail Savinov completed when it was folded around to him, Benyamine called before leading out on fourth street. Savinov made the call and then bet and was check-raised all in by the Frenchman - Savinov again making the call.
The Russian wasn't in bad shape, holding a gutterball, a pair and four to a low against Benyamine's aces. On sixth, Savinov went ahead with two pair but Benyamine pulled out a queen for aces up on seventh. Savinov needed a five, six or seven to scoop or any other low card to chop but he could only pick the

and bricked.
| | | | | | |
| --- | --- | --- | --- | --- | --- |
| David Benyamine | | | | 670,000 | 290,000 |
| Mikhail Savinov | | | | Izpadel | |
Hellmuth:


/




Benyamine:


/




Racener:


/


On fourth street, Phil Hellmuth bet his pair and David Benyamine raised to chase away John Racener. Hellmuth called, very much to the liking of Benyamine. "Somebody doesn't have three queens," said a happy Benyamine.
On fifth street, the rest of Benyamine's stack got into the middle and he was very happy to hit the

on sixth street to make a low and make Hellmuth sweat. Hellmuth, meanwhile, turned over an

on sixth, followed by the

on seventh.
Benyamine slowly peeled his seventh street with Eric Rodawig and Racener sweating with him, but it was just the

to improve his low.
Chop it up.
| | | | | | |
| --- | --- | --- | --- | --- | --- |
| Phil Hellmuth | | | | 900,000 | |
| David Benyamine | | | | 380,000 | 30,000 |
There has been very little action over the last ten minutes, no pots of any particular action and very few that actually made it past third.
The only thing of note that this reporter enjoyed was Ted Forrest putting up his hood and briefly pretending he was the Emperor from Star Wars.
Racener:


/




/


Benyamine:


/





John Racener was the bring in and the table folded to David Benyamine, who completed. Racener popped it with a raise, Benyamine called, and then check-called Racener's fourth-street bet.
Racener took the on-board lead on fifth street and bet, getting called by Benyamine. Racener improved to trips on sixth street and bet again, forcing Benyamine to a decision for his remaining 70,000 roughly. After a few moments deliberating, Benyamine called.
Racener



Benyamine


Racener had trips and a wheel draw to Benyamine's pair of fours and a low draw. Racener turned over his seventh street first, the

to make a 6-5 low. Benyamine was drawing thin, but pulled a timely

to make better trips and chop up the pot.
| | | | | | |
| --- | --- | --- | --- | --- | --- |
| John Racener | | | | 710,000 | -55,000 |
| David Benyamine | | | | 350,000 | -5,000 |
Nivo:

25
Stave:

50,000/100,000
Ante:

10,000