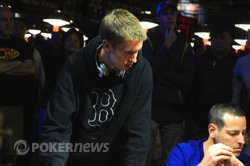 Stud 8/b
Brent Hanks brought it in with the

up, and John Monnette completed with the

. Hanks made the call, and their hands ran out thusly:
Hanks: (x-x) /




/ (x)
Monnette: (x-x) /




/ (x)
Both players checked fourth street, and Monnette bet fifth. He bet again on sixth, and Hanks check-called one last bullet on seventh. It was the one that put him all in for about 65,000, and he'd soon be all the way out. Monnette turned up



in the hole, and he finished with kings and a seven-low to scoop the pot. Hanks tabled his



, on his way out the door to collect fourth-place money. It's worth $78,774 -- not bad for a couple days' work.