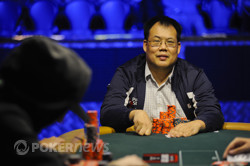 With just 345,000 left, Bill Chen moved all in and found a caller in, who else, David Diaz.
Chen:



Diaz:


The flop was kind to Chen who was ahead with K-high when it came



. The turn was cruel to Chen though as the

fell and left him with just the three remaining Kings. The river bricked with the

and Chen was eliminated in 4th place.