Event Info
| | |
| --- | --- |
| Prijavnina | $1,500 |
| Nagradni sklad | $1,809,000 |
| Players | 1,340 |
Informacije o trenutnem nivoju
| | |
| --- | --- |
| Nivo | 27 |
| Slepe stave | 25,000 / 50,000 |
| Ante | 5,000 |
The three remaining players have returned from their break and cards are in the air.
They have played two more levels just like that and the three remaining opponents will take a short 20 minute break. As you can see by the chip counts below, Andrea Dato will have to figure out what to do when he returns to get back into this match.
| | | | | | |
| --- | --- | --- | --- | --- | --- |
| David Diaz | | | | 2,720,000 | -155,000 |
| Anders Meli | | | | 2,410,000 | 160,000 |
| Andrea Dato | | | | 885,000 | -15,000 |
Players have mostly been raising and three betting without a flop or showdown. But in this hand, our short stack, Andrea Dato, was able to take a little more than just the blinds.
Dato raised his button to 80,000 and David Diaz called from the big blind. The board came





as both players had checked through the turn. On the river, Diaz checked to Dato who bet 125,000 and Diaz made the call. Dato shipped the pot with the


to pick up about 230,000 on that hand and get his stack back to around the 1 Million chip mark.
Anders Meli raised his button to the standard, 80,000. David Diaz folded but Andrea Dato made the call from the big blind.
The flop came



and both players checked. Dato bet out 100,000 on the

turn, a bet which Meli called. The river was the

, both players checked and Dato showed


for a missed flush draw. The King-high of Meli's


was good enough to take the pot and make Dato's stack that much shorter.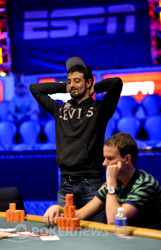 Of our three remaining players, David Diaz has arguably been the most fortunate with preflop all in situations today. His inferior Ace was able to catch up and chop with a stronger Ace against each of his two remaining opponents. Now it was Andrea Dato's turn to catch up, except he did it to Anders Meli, who must be wondering when it's his turn to get there.
Meli raised his button to 80,000 and David Diaz re-raised from the small blind to 180,000. Dato took a look at his cards and quickly moved all in. Meli isolated by moving all in behind him and Diaz let go of his hand. Meli had the


and was in good position to knock out Dato's


. But the board paired twice by the turn as it ran out




. The

river bricked both players and the pot was chopped... again.
David Diaz raised on his button to 80,000 and Andrea Dato folded his small blind. Andres Meli decided to three bet his big blind to 200,000 before Diaz four bet to 350,000. Meli thought for a bit before deciding to move all in to which Diaz mucked his hand.
Meli picked up nearly 400,000 chips on that hand and is back within sight of our other two competitors.
Anders Meli opened his button with a raise to 80,000. David Diaz got out of the way and Andrea Dato called from the big blind.
The flop came



and Dato checked to Meli who fired out 90,000. Dato took a chunk of green 25,000 chips and moved them in front of his cards. Meli quickly folded and is now clearly the short stack with 1.2 Million. He still has 30 big blinds left and is not in any immediate trouble.
After Anders Meli folded his button, David Diaz raised to 105,000 from the small blind. Andrea Dato three-bet to 235,000 and action went back to Diaz. After thinking a moment and thoroughly looking over Dato's stack, Diaz announced he was all in.
Dato immediately took off his hat and put down the hood on his sweatshirt. After tanking hard, including a count of Meli's stack, Dato let his hand go and Diaz' supports erupted in a roar.
Nivo:

26
Slepe stave:

20,000/40,000
Ante:

5,000
All three players have played tremendously well throughout the three days of play here in Event 12. As their reward, each of them have over 50 big blinds to play with. So far at the final table, the standard open has been a min-raise so they will have plenty of room in their stacks to play poker. Whoever does win this bracelet will be especially deserving having beaten two exceptional opponents with about even chip stacks heading into three-handed play.
Right now it is David Diaz with the chip lead, holding about 45% of the chips in play. Anders Meli and Andrea Dato have about the same size stack and most imporantly, both are easily within striking distance of Diaz.