While Nick Schulman might be more recognized for his commentary as of late after putting in many hours in the booth during the World Series of Poker, he's taking some time to hop back onto the felt here in Jeju for the Triton Super High Roller Series. Despite his time in the booth, Schulman still considers himself a player first, and a commentator second, saying that the games don't have to be that juicy to entice him to play.
"Well, I mostly play," Schulman explained. "You know I only do a little bit of commentating. Not that juicy. If I feel like playing, I'm in there. Like this tournament for example, no idea what I'm doing. I'm in there fighting"
Stepping back onto the felt after spending time commentating has its pros and cons for Schulman. He explained the commentating does keep him sharp and helps him think about the game in new ways, but at the same time, there's no better learning tool than buckling down and hopping into the games.
And as he's grown as a commentator, his fanbase has grown as well. Over the course of the summer, Schulman received much praise for his work in the booth from players and viewers alike who voiced their pleasure over various forms of social media. And while the praise for his work certainly keeps him motivated, Schulman remains humble, explaining that there's a lot that goes into his preparation and that he's always trying to make improvements.
"I really appreciate it," Schulman said about the praise he's been receiving. "I'm always trying to grow in the role. The praise makes me a little bit uncomfortable, but it also feels really really good. I don't want to really let it fuck with my style. I have a lot of ideas that I try to build, I take a lot of notes. I prepare diligently for it honestly. Everything from my voice to just the poker itself and even the dynamics in the booth. I really appreciate the role and I don't take it for granted."
For Schulman it's his very first time playing short deck hold'em, but he's already having a blast learning the new game.
"I just came out with some friends for the series, just for a little bit of vacation action," he explained. "Didn't even know about this one until I got here and the buy-in is reasonable and it's the first time I've ever played. I really don't know what I'm doing which is fun because I can only, I think, maybe I can actually get worse than I am now. Probably that's possible. You know it's a lot of fun and I'm happy to be here"
Along with that, Schulman is also playing in his first Triton Super High Roller Series as well, but that didn't stop him from singing his praises after just arriving yesterday.
"Beautiful," Schulman said. "Beautifully run and the accommodations are great. Not surprising because I've watched the last one, some of the stream. It's top-notch, it's great."
Schulman traveled to Jeju for the event with Illya Trincher, another high stakes regular, and before playing the two discussed a bit of strategy in preparation for the tournament.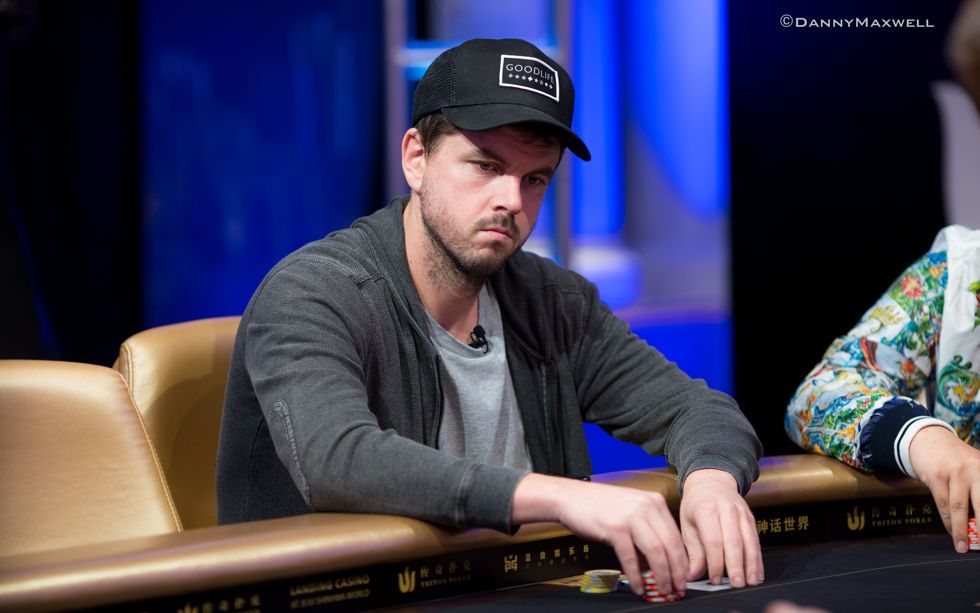 "Yeah me and Illya were talking," Schulman explained. "Talking with a few buddies. Obviously, I play a lot of no-limit hold'em, or at the very least think about it a lot. So, you take 20 cards out of the deck, there's all sorts of stuff going on. Some of it is somewhat natural. The nuances and all the sorts of strategies of this game… I'm sort of just poaching it off players who played it a little bit and talking and asking for advice. Me and Illya just kind of mess around and try to come up with some stuff."
For Schulman, the biggest strategies he's been working on for short deck are in pre-flop decision making and post flop decision making, something that's a big part of no-limit hold'em as well.
"Pre-flop decision making, post-flop decision making," he said explaining some of his preparation topics. "And of course some of the stack size stuff gets crazy. And you know some of these middling kind of hands that make straights. This is a little bit foreign to no-limit hold'em players, and even though it makes sense given that there's no fives through deuces, it's still a little bit tricky and sometimes you can just kind of revert to no-limit. But all of that stuff we were just talking about briefly."
And despite spending so much time on his commentary, Schulman is playing with a new crowd of players in this event, many players who have yet to make a splash in the North American poker circuits. For him though, it's still a bit too early to tell who's doing what.
"I haven't really been playing long enough today to really see any kind of discernible sort of styles," Schulman explained. "And so many hands from multi-way or they're limped. It's kind of hard. I feel like nuances and the good players in this game, it might be a little more subtle than in other games. I haven't really picked up all that much. I'm just kind of in there, gunslinging a little bit."
Schulman is able to find the good in playing with players he knows as well as new faces, something that he'll be doing a lot of with the mixed bag of players in this event.
"Both are nice. No-limit hold'em is my preferred game. I just love to play and that's often conducive towards people that I know. Which is a lot of fun. It's a lot of fun to play with great players. I enjoy that. But having said that, playing with people I've never seen is great. Playing a new game a new game is great, and I'm having a lot of fun."
Despite not having much experience with the game, Schulman was able to sneak his way into Day 2 of this event. He will return later on Wednesday with his stack of 685,000 in an effort to run even deeper in the tournament. And even though he's having a blast playing the game, Schulman thinks it might take longer for the game to integrate into the mainstream poker scene, for a multitude of reasons.
"It's a really good question," Schulman said. "Are there any legality hold-ups in the states or can it be spread? It's a very fun game. It's an action kind of game. It's a gambley game. But I really don't know as far as will it take off or will it not? I can't quite say.
Schulman couldn't put a number on it, but he did say it's a logical move to eventually make short deck into a World Series of Poker Bracelet event.
"I don't know what the timeline is, but I would have to think that probably there will be one," he said. "It's a pretty natural move to incorporate short deck out west for a lot of different reasons."
When it comes to the future and the rest of the series, Schulman is looking forward to some of the larger buy in, no-limit hold'em events, but mentioned what he would really like is if Triton would integrate more mixed games into the schedule.
"There's the 50k no-limit that's coming up and I think there's a 250k U.S. that's coming up, I'm really excited about," he said. "Any of the short deck buy ins above this, I don't know. I'm really raw out there. I made a couple of plays out there today that whiffed."
"Mixed games," Schulman said is what he would like to see. "But I don't know if that's really going to pop off in Jeju. So maybe a half no-limit half short deck sounds fun. I do love the mixed games. I love stud. If any of these dudes want to play some limit stud, I'm here."
Perhaps Schulman is on the right track though. Could a no-limit, short deck hold'em and pot-limit Omaha mix event be the next step for Triton? Only time will tell.