Sponzoriral:

Event Info
| | |
| --- | --- |
| Nagradni sklad | 9,118,000 PHP |
| Players | 47 |
Informacije o trenutnem nivoju
| | |
| --- | --- |
| Nivo | 22 |
| Slepe stave | 10,000 / 20,000 |
| Ante | 3,000 |
PHP 215,000 High Roller
Dan 2 končan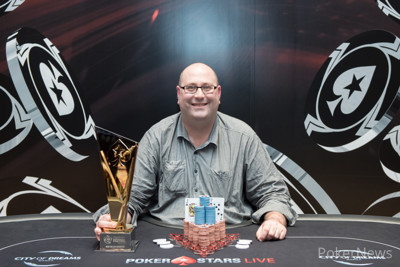 Day 2 of the 2017 PokerStars Festival Manila PHP215,000 (~$4,260) High Roller Shot Clock saw 18 players out of a 36-entry strong field returne to the tables of the PokerStars LIVE Manila at the City of Dreams Grand Ballroom.
With the registration open for another full level and break, further hopefuls took a shot at the prize pool and a field of 47 entries in total emerged. The prize pool of PHP9,118,000 was set with the top six spots guaranteed to receive a share of it, along with points for the current Asian Player of the Year leader board.
Ultimately, it was Australia's Peter Plater who sat down for the winner shot after more than 13 hours. During the final table play, Plater admitted that his best cash so far was for A$9,000 on last Sunday in a A$350 tournament at the Crown Casino in Perth. Right after, the 37 year old engineer jumped on a plane to Manila, won his entry with a one-shot through yesterday's PHP33,000 satellite and eventually lifted the golden trophy.
"Fold to the money," that was Plater's strategy for the final table. He came in with a short stack and just wanted to walk away with anything. "I'd like to say that I was trying to win it but it was simply fold to the money. I had no intent to play the High Roller tournament," Plater added. "The big buy-in events are a little bit too high for me. I like playing the 400 and 500 dollar events. I was a bit lucky just before I came. I won a tournament just before I came so I had a little extra money than I usually do, so I thought, I'll give it a go, the satellite. And the rest is history."
The Aussie, who engaged in plenty of table talk and banter with runner-up Sathesh Muthu and third-place finisher Hermann Lee from Singapore, takes home PHP3,100,000 (~$61,520). The other players in the money include Japan's Yo Seb Rhee and Jun Obara while fellow live satellite qualifier Timofey Asmolov min-cashed.
Final Result High Roller Shot Clock
| Place | Player | Country | Prize (PHP) | Prize (USD) |
| --- | --- | --- | --- | --- |
| 1 | Peter Plater | Australia | 3,100,000 | 61,520 |
| 2 | Sathesh Muthu | Singapore | 2,140,000 | 42,475 |
| 3 | Hermann Lee | Singapore | 1,368,000 | 27,152 |
| 4 | Yo Seb Rhee | Japan | 1,050,000 | 20,840 |
| 5 | Jun Obara | Japan | 820,000 | 16,673 |
| 6 | Timofey Asmolov | Russia | 640,000 | 12,703 |
Day 2 early action
Tom Or-Paz was leading the field of Day 1 survivors, but the player from Israel suffered several setbacks to join the rail much sooner than expected. Among those to run out of chips were Aditya Sushant, Konstantin Pogodin, Aki Virtanen, Singapore's Alex Lee, Victor Chong and Van Sang Nguyen. Or-Paz bowed out before the last three tables as well after losing a flip with pocket fives against the king-queen of Lester Edoc.
Lester Edoc himself was one of the victims of the hot run of Sathesh "Stash" Muthu when his open-ended straight draw didn't get there, and Muthu also cracked the pocket kings of Pete Chen when flopping a flush with ten-nine suited. Sparrow Cheung dispatched fellow 2017 Asian Player of the Year (APOY) contender Alan Lau with ace-king versus ace-ten, but also failed to earn additional points for the leader board. Short-stacked, Cheung put his hopes on queen-ten and Jun Obara's pocket jacks held up.
Sathesh Muthu seemed unstoppable by then, and he also took care of Hoa Thinh Nguyen after rivering a broadway straight. But Yo Seb Rhee, who fired four bullets on Day 1, managed to break through Muthu and built his stack with two aggressive moves in quick succession. While Celine Lee doubled with quads, Linh Tran and Ken Okada were less fortunate and ran out of chips.
Tsun Ming Chan, one of the players that joined in the first level of Day 2, ran with queen-seven suited into the pocket aces of 1990 World Series of Poker Main Event champion Mansour Matloubi and one seven on the board was not enough. What followed was a wave of double ups and Simon Burns ended up as the bubble boy of the unofficial final table. The Brit first lost most of his stack with set versus flush and the remainder vanished with nine-seven against the ace-deuce of Peter Plater. This sent everyone into the dinner break with the following seat assignments.
Unofficial Final Table
| Seat | Player | Country | Chip Count | Big Blinds |
| --- | --- | --- | --- | --- |
| 1 | Shengyu Li | China | 226,000 | 38 |
| 2 | Yo Seb Rhee | Japan | 579,000 | 97 |
| 3 | Timofey Asmolov | Russia | 210,000 | 35 |
| 4 | Peter Plater | Australia | 157,000 | 26 |
| 5 | Jun Obara | Japan | 167,000 | 28 |
| 6 | Sathesh Muthu | Singapore | 410,000 | 68 |
| 7 | Mansour Matloubi | UK | 124,000 | 21 |
| 8 | Hermann Lee | Singapore | 384,000 | 64 |
| 9 | Celine Lee | China | 93,000 | 16 |
Final Table Action
The final table started with a bang and it was Shengyu Li who was first to bust. He three-bet out of the big blind, bet a four-high flop and shoved when a jack appeared on the turn. Initial raiser Hermann Lee snap-called with jack-four suited for trips on the flop and a full house on the turn, and Li's pocket tens found no magic river.
Mansour Matloubi's stack all but vanished and the Welshman joined the rail in 8th place. His ace-three in the big blind failed to hold up against the eight-six of Jun Obara and the money bubble was reached. Several players were getting very short and it was Celine Lee who ended up empty-handed. Lee moved all in for her last seven big blinds with pocket queens and Peter Plater reluctantly called with pocket sevens and the slightly superior stack. A seven fell on the flop and that was it for Lee.
Timofey Asmolov lost back-to-back hands against Peter Plater and had to settle for the min-cash when his king-seven suited found no help against Plater's ace-ten. Jun Obara's move with jack-eight and second pair on the flop followed by a straight and flush draw on the turn backfired, as Stash Muhtu called with ace-nine for two pair on the river and the field was down to the last four.
Yo Seb Rhee fired four bullets on Day 1 and had to settle for 4th place eventually. A roller coaster final day saw the Japanese at risk with pocket eights out of the big blind on a jack-high turn and Hermann Lee snap-called with seven-three spades for flopped two pair and a turned full house.
Down to the final trio, Sathesh Muthu held more chips than both of his opponents combined, but both Peter Plater and Hermann Lee doubled through him. Muthu regained a comfortable lead and the two short stacks collided when Lee's queen-jack suited for top pair failed to hold up against the nine-three of spades for Plater. Another spade on the river completed Plater's flush and Lee was gone.
Satesh Muthu dominated the first hands of the duel one-versus-one, but Peter Plater quickly established a big lead. After 90 minutes, Muthu forfeited the vast majority of his stack against a back-to-back check-raise of Plater on flop and turn and then got it in with pocket nines on an eight-high flop the next hand. Plater reluctantly called with jack-seven for middle pair and went runner-runner straight to clinch the win.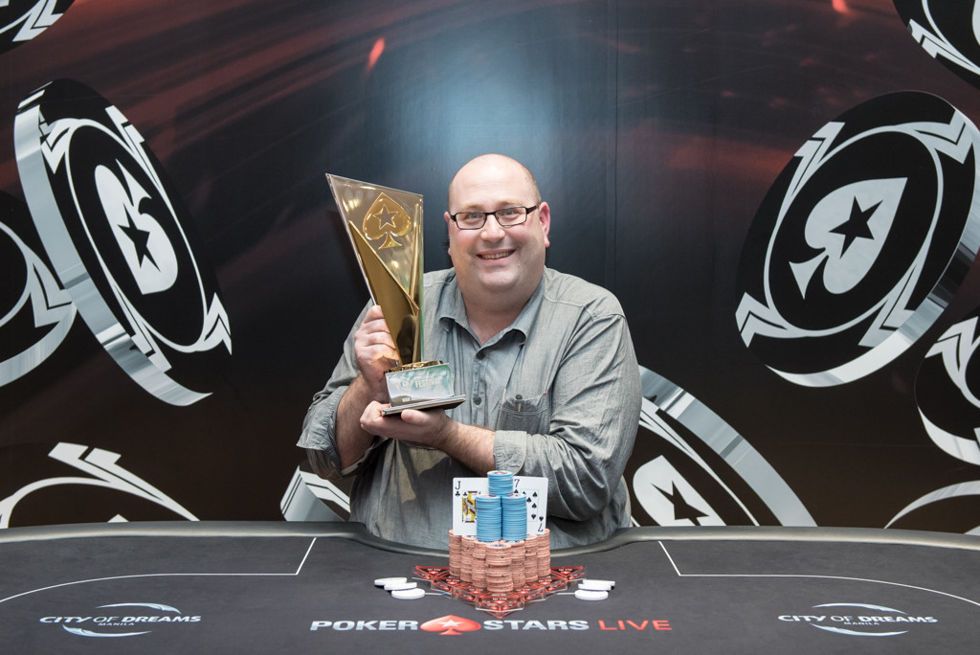 That marks the end of the PokerNews live updates from the High Roller Shot Clock, but the PHP55,000 Main Event continues with the second of three starting days as of 2 p.m. local time on Friday, August 4th 2017.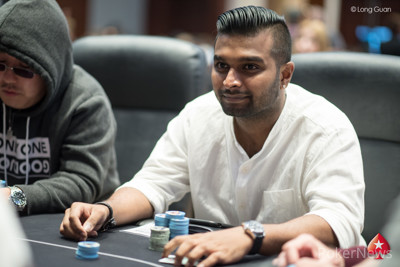 Sathesh Muthu faced a raise to 50,000 by Peter Plater and called out of the big blind. The flop fell



and Muthu checked. Plater bet 100,000 and Muthu check-raised all in to see Plater ask for a count. The shove was for a total of 326,000 and Plater called to create the following showdown:
Sathesh Muthu:



Peter Plater:


Muthu was away ahead with his over pair and open-ended straight draw, while Plater needed a seven or jack. That situation changed slightly with the

turn, as Muthu had top set all of a sudden and Plater needed a five for a chop and a ten for the victory. Fellow Aussie Brian McAllister on the rail predicted the ten and sure enough the

river improved Plater to a jack-high straight.
After winning his seat in the PHP33,000 satellite yesterday, Plater turned that into a payday of PHP3,100,000 while Muthu had to settle for second place and PHP2,140,000 (~$42,475).
A recap of today's action is to follow shortly.
Sathesh Muthu raised to 50,000 and Peter Plater called. On the



flop, Plater checked and Muthu bet 65,000. Plater's check-raise to 190,000 was met with a reraise to 380,000 by Muthu and Plater called. The

appeared on the turn and Plater checked again.
Muthu bet 250,000 and Plater moved all in to see Muthu sent into the think tank. He used both of his remaining time-bank chips and folded to forfeit a massive portion of his stack.
Sasthesh Muthu discussed the deal with his rail for several minutes and ultimately rejected it with a more than two-to-one chip deficit, but that all changed in the first hand back in action.
Muthu limped and Peter Plater checked his option. Plater bet the



flop for 50,000 and was called before firing the

turn for 70,000, Muthu called. The

river paired the board and Plater announced a bet of 100,000. Muthu raised it up to 350,000 and Plater called a few seconds before his time ran down.
Muthu announced a straight and showed


to essentially even out the stacks.
Sathesh Muthu pulled back some chips before losing it again in a medium-sized pot. A raise to 50,000 was followed by a check, bet of 70,000 on the



flop and a call by Peter Plater. Both checked the

turn and Plater bet the

river for 50,000 to force a deal.
Right after, Plater asked "Are you interested in flattening the prize pool," essentially suggesting a deal. Muthu was interested and Plater suggested to leave PHP400,000 and the trophy to play for while chopping up the remaining prize pool. That would lock up PHP2,420,000 for both and both players proceeded to talk to their rail.
Peter Plater raised to 50,000 and Sathesh Muthu called. On the



flop, Muthu check-called a bet worth 70,000 and moved all in after the

turn. Plater considered a call, but ultimately folded.
The next hand, Muthu raised to 50,000 and called a three-bet to 110,000 by Plater. On the



flop, Plater followed up his story with a bet of 190,000 and that won the pot.
Muthu also lost the next hand and saved himself some chips by checking behind the





river. Plater showed


for trips nines and won the pot.
In the penultimaze hand of the old level, Peter Plater raised to 45,000 and Sathesh Muthu called. Muthu check-called a bet of 60,000 on the



flop and moved all in after the

turn. Plater asked for a count and used one of his five remaining time-bank chips before folding to the shove of 56,000 by Muthu.
He received a walk the next hand and turned over


with the words "Where were you last hand?"
The new level saw a successful three-bet of Muthu and he got back a few chips more.
Nivo:

22
Slepe stave:

10,000/20,000
Ante:

3,000
Sathesh Muthu was able to pull some chips back in smaller pots, but the next attempt to repeat the same backfired to see Peter Plater pull away further. Muthu made it 45,000 to go and Plater called. On a flop of



, Plater checked and Muthu's continuation bet of 85,000 faced a check-raise to 200,000 almost immediately.
Muthu let the clock run down to two seconds and folded.