Event Info
| | |
| --- | --- |
| Prijavnina | €115 |
| Players | 2,794 |
Informacije o trenutnem nivoju
| | |
| --- | --- |
| Nivo | 42 |
| Slepe stave | 1,000,000 / 2,000,000 |
| Ante | 2,000,000 |
Main Event
Dan 3 končan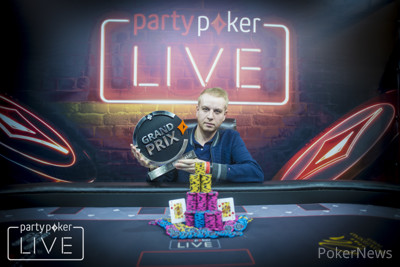 The final day of the partypoker LIVE Grand Prix Austria €115 Main Event started today at 1 p.m local time and after about twelve hours of play, Vladimir Burstein was crowned the winner. He bested Martin Lechner heads-up and took home the trophy and €47,520 for first place after a deal was done with five players left.
The Main Event had several Day 1s in thirteen different locations with the first one taking place on the 17th of September in Malta and the last hyper-turbos starting on the Day 2 days in CCC Simmering and the Montesino Casino. There were also sixteen online Day 1s where players could try to make it through to the Online Day 2 to end up here in Vienna for the final day.
In total there were 5,230 entries creating a prize pool of €507,310. 280 players in Montesino, 164 in Simmering and 98 Online players all advanced to their Day 2s. They were all in the money, cashing at least €250 for their efforts on Day 1. 41 of those 3 Day 2s went through to the final day here in the Montesino Casino to compete for the trophy and first place payout.
After his victory, Burstein said he had been playing professionally for about 2 years. He normally comes to Vienna about once a month to play the live games except during the summer when he can be found in Las Vegas. All his friends in the poker community were following him and supporting him the whole day. He actually came to Vienna to play the cash games and this tournament sort of fell into his lap. Next on the agenda will be some tournaments in Rozvadov at the end of the month but no crazy big buy-in tournaments for now.
Final Table Results
| Place | Winner | Country | Payout |
| --- | --- | --- | --- |
| 1 | Vladimir Burstein | Czech Republic | €47,520* |
| 2 | Martin Lechner | Austria | €48,530* |
| 3 | Rolando Lombardi | Italy | €32,980* |
| 4 | Aristeidis Moschonas | Austria | €32,560* |
| 5 | E. A. | Austria | €29,920* |
| 6 | Ela Kubincova | Slovakia | €13,500 |
| 7 | D. A. | Austria | €10,000 |
| 8 | Dragan Zaric | Slovenia | €7,500 |
* a deal was done
The final day's action
Forty-one players took their seats today spread over six tables but not everyone could make it to the final table. At the start of the day, the dealers were shouting out "seat open" fast and furiously. Razor was one of the first players to fall today thanks to Lechner when Razor failed to hit his flush draw while Lechner hit trip queens on the turn. Later on the day Rene Wolech and Pavel Chalupka were both eliminated by Levente Muszi in the same hand. Wolech's ace-seven off-suit and Chalupka's ace-six off-suit were crushed by Levente's pocket jacks as he hit a set on the flop and turned quads.
Ela Kubincova, a poker dealer herself, was here with her boyfriend Martin Kuliffay (also a poker dealer). He failed to make it through to today but she did. She was getting short but once she was switched to the feature table she managed to stack up in two hands in quick succession of each other. Her shove with ace-seven won against the king-jack off-suit of Dragan Zaric when she hit her ace on the turn. And then she shoved with queen-seven in a five-way pot when she hit two pair on the turn. She was called by Christian Georgescu who couldn't lay down his pocket kings on that board.
Nine players moved to the unofficial final table, Giorgi Tsintsadze became the final table bubble when his pocket tens ran into the kings of E. A. after having ran into kings already in the hand before which left him short. Zaric was next to leave the table with €7,500 after his ace-eight lost against the king-jack of Lechner who turned a pair of jacks.
D. A. played Day 2 in CCC Simmering and lost against Aristeidis Moschonas. Although he had flopped top pair on the flop with his jack-ten, Moschonas would hit a set of nines on the turn sending A. home with €10,000 and a 7th place finish. Kubincova finished in 6th place when her ace-six couldn't win against the jacks of Moschonas. She did hit her ace on the flop but the turn gave Moschonas a set to eliminate her from today's tournament.
The remaining five players decided to do an ICM deal which they all agreed to after a bit of back and forth. The adjusted numbers have been reflected in the payouts table. Soon after the deal was agreed E. A.'s tens weren't good enough for Lechner's nines as he had hit a set on the flop.
Moschonas was the last player left standing in the Golden Chip promotion which meant he had locked up a $10,000 package to the Caribbean Poker Party. This was on top of the €32,560 he had already secured himself in the ICM deal. But nothing more would be added to this already great result for him as his ace-queen wasn't good enough against the jacks of Rolando Lombardi.
As agreed earlier between the players, they would now start playing 30-minute levels. Lombardi was next to make his exit with queen-nine against the king-ten of Lechner. Lechner had hit a king on the flop but Lombardi had a flush draw. He also hit a queen on the turn, Lechner had bet but Lombardi shoved and was snap-called and lost as he bricked the river.
Heads-up play was between Burstein who started the day as the chip leader and Lechner who came into today in 19th place in the chip counts. Burstein went through the day quietly, chipping his way up. Compared to Lechner who seemed to be more involved in the bigger hands. They started the heads-up match with pretty even stacks as the difference was a bit less than 4 big blinds. They agreed to split the remaining €16,000 they were still playing for evenly.
In the final hand Burstein limped in with jacks and Lechner checked with five-three. The three-seven-six flop gave Lechner bottom pair. But when he check-raised he was met with a shove by Burstein which he called. Burstein had an overpair and the turn and river didn't change that fact. So Lechner was eliminated in second place.
The next partypoker tournament will be held in Punta Cana from November 19th to 25th, the Caribbean Poker Party Festival with a $10,000,000 guarantee. The PokerNews live reporting team want to thank you for following the live updates and hope to see you soon for the next exciting tournament.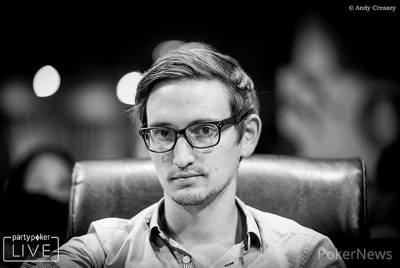 Vladimir Burstein limped in from the button, with Lechner checking from the big blind. The dealer spread a

flop, which Lechner opted to check-raise, before Burstein moved all-in. Lechner quickly called off the rest and the cards were on their backs.
Burstein had limped a monster, turning over


for a big overpair, while Lechner had flopped a combo draw with


. Lechner needed a

, a

, or a
to take the lead, but the dealer could only find a

and a

.
After just 10 minutes of heads up play, Vladimir Burstein had converted what looked like it would be an even heads-up battle, sending Lechner to the cash desk to pick up the €40,530 they agreed upon in the five-way ICM deal, plus an extra €8,000 set aside for the last two remaining players.
| | | | | | |
| --- | --- | --- | --- | --- | --- |
| Vladimir Burstein | | | | 261,800,000 | 134,100,000 |
| Martin Lechner | | | | Izpadel | |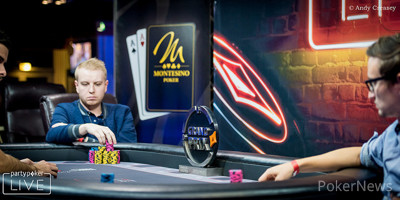 Martin Lechner and Vladimir Burstein take roughly even stacks into this heads-up battle.
Burstein booked himself €39,520 in the five-handed deal, while Lechner locked up up €40,530. On top of those payouts, our second place finisher will receive an extra €6,000, while there is €10,000 and the beautiful trophy set aside for the winner!
| | | | | | |
| --- | --- | --- | --- | --- | --- |
| Martin Lechner | | | | 134,100,000 | |
| Vladimir Burstein | | | | 127,700,000 | 68,300,000 |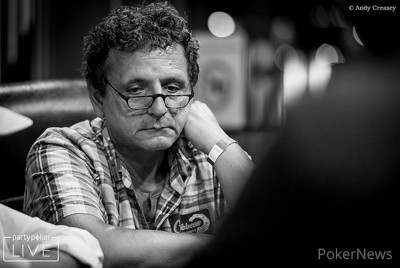 Martin Lechner opened the button with a raise to 5,000,000, prompting Vladimir Burstein to get out of the way from the small lind, while Rolando Lombardi made the call from the big.
Both players quickly checked the


flop, before Lombardi led out for the minimum - 2,000,000 - on the
turn. Lechner kicked it up to 10,000,000 and, after not much thought at all, Lombardi declared all-in. Before the dealer could toss him the all-in triangle, Lechner had made the call and tabled

. Lombardi's
turned a pair to go with his flush draw, but needed some help on the river.
The dealer slapped the

on the river, which secured the pot for Lechner, and sent Lombardi to the cash desk to pick up the €29,860 agreed in the deal, plus €3,120 set aside for third place.
| | | | | | |
| --- | --- | --- | --- | --- | --- |
| Martin Lechner | | | | 134,100,000 | 23,400,000 |
| Rolando Lombardi | | | | Izpadel | |
Martin Lechner and Vladimir Burstein took a

flop heads-up, with Lechner leading out for 4,000,000 chips and picking up a quick call.
The

turn paired the board, with Lechner slowing down and both players opting to check. Both players also checked the

river, and Lechner surprised everybody by turning over

for trips. He dragged in the pot and finds himself back on top with a nine-figure stack.
| | | | | | |
| --- | --- | --- | --- | --- | --- |
| Martin Lechner | | | | 110,700,000 | -4,300,000 |
| Vladimir Burstein | | | | 59,400,000 | -15,800,000 |
Nivo:

42
Slepe stave:

1,000,000/2,000,000
Ante:

2,000,000
Our last three players are taking a short break. They've agreed to reduce the length of the blind levels to 30 minutes when play resumes.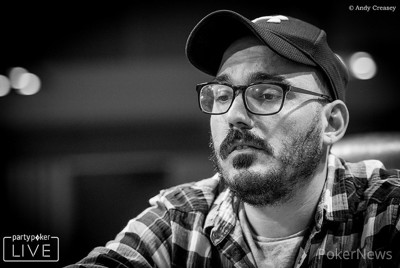 Aristeidos Moschonas got his last 44,500,000 all-in with
and took it to the races versus Rolando Lombardi's


.
The


flop added the two remaining jacks to Moschonas' list of outs, but the
turn and

river were both bricks, and Lombardi scooped the pot to become our new chipleader.
Moschonas will pick up €32,560 as per the terms of the deal that was made five-handed, but will also score himself a $10,000 Caribbean Poker Party for making the final table as one of the first 100 online players to get through to Day 2.
| | | | | | |
| --- | --- | --- | --- | --- | --- |
| Rolando Lombardi | | | | 97,300,000 | 63,700,000 |
| Aristeidis Moschonas | | | | Izpadel | |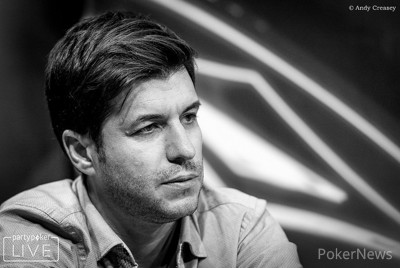 Martin Lechner opened with a raise from the cutoff to 2,300,000, before E. A. stuck in a 3-bet from the big blind to 8,500,000. Lechner agreed to call the extra and the two players took a flop.
E. A. put out a small continuation bet of 4,500,000 on the


flop, with Lechner very quickly calling. The

hit the turn, with E. A. slowing down to a check. Lechner locked eyes with E. A. for a moment, before pushing a full stack of pink 500,000-value chips over the line. It didn't take long for E. A. to make the call, as they headed to the

river.
E. A. thought for a moment before moving all-in and, no sooner had the words left his lips, than Lechner had made the call and whipped over his

for flopped second set. That was plenty good enough versus E. A.'s
, which meant Lechner would drag in the huge pot to build himself a nine-figure stack, as E. A. headed to the cash desk to collect his adjusted 5th place payout of €29,920.
| | | | | | |
| --- | --- | --- | --- | --- | --- |
| Martin Lechner | | | | 115,000,000 | 33,500,000 |
| E. A. | | | | Izpadel | |