Sponzoriral:

₩10,000,000 Super High Roller
Event Info
| | |
| --- | --- |
| Nagradni sklad | 829,738,000 KRW |
| Players | 91 |
Informacije o trenutnem nivoju
| | |
| --- | --- |
| Nivo | 26 |
| Slepe stave | 150,000 / 300,000 |
| Ante | 300,000 |
Informacije o igralcih - Dan 2
| | |
| --- | --- |
| Število preostalih igralcev | 1 |
| Vseh prijavljenih | 91 |
₩10,000,000 Super High Roller
Dan 2 končan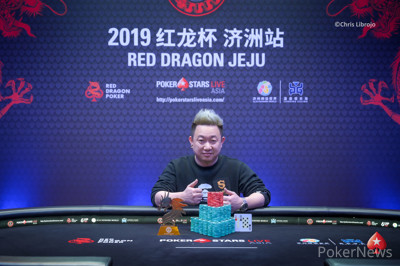 The 2019 PokerStars LIVE Asia Red Dragon Jeju festival has come to a thrilling conclusion in the early morning hours as Bin Sun topped a field of 91 entries in the ₩10,000,000 Super High Roller to claim the lion's share of the ₩829,738,000 ($713,575) prize pool. Sun defeated Yake Wu in heads-up to claim the top prize of ₩220,295,000 while his heads-up opponent walks away with ₩153,087,000 for his efforts.
Sun had already come close to victory at the Jeju Shinhwa World - Landing Casino a few days ago when he reached the final table of the ₩5,000,000 High Roller and went from chip leader to 5th place finisher in two hands. This time, Sun hit when it mattered the most to enter three-handed play with a large chip lead and ultimately prevailed despite a big double for Wu in heads-up.
Zhiqiang Qian had to settle for third place. Sun Guodong, who also reached the final table of the ₩1,500,000 Baby Dragon one day prior and finished 7th for a payday of ₩22,131,000, ended up in 5th place and scored another ₩63,890,000 for his poker resume.
A total of 13 players cashed in the event and 10 of them were from China with Jun Obara (11th for ₩17,839,000), Jamie Lee (8th for ₩30,700,000) and Szymon Wysocki (7th for ₩39,413,000) as only exceptions.
Final Result ₩10,000,000 Super High Roller
| Place | Winner | Country | Prize (in KRW) | Prize (~ in USD) |
| --- | --- | --- | --- | --- |
| 1 | Bin Sun | China | ₩220,295,000 | $189,454 |
| 2 | Yake Wu | China | ₩153,087,000 | $131,655 |
| 3 | Zhiqiang Qian | China | ₩101,228,000 | $87,056 |
| 4 | Fei Xiong | China | ₩79,240,000 | $68,146 |
| 5 | Sun Guodong | China | ₩63,890,000 | $54,945 |
| 6 | Nan Hong | China | ₩49,784,000 | $42,814 |
| 7 | Szymon Wysocki | Poland | ₩39,413,000 | $33,895 |
| 8 | Jamie Lee | United States | ₩30,700,000 | $26,402 |
| 9 | Lei Yu | China | ₩23,233,000 | $19,980 |
| 10 | Shenming Yin | China | ₩17,839,000 | $15,342 |
| 11 | Jun Obara | Japan | ₩17,839,000 | $15,342 |
| 12 | Zifeng Zhang | China | ₩16,595,000 | $14,272 |
| 13 | Ye Wang | China | ₩16,595,000 | $14,272 |
Frantic early action as another big field emerges
Out of the 71 entries from Day 1, 47 players had bagged up and several notables such as Pete Chen, Phachara Wongwichit and Victor Chong all jumped into the action in the first 40-minute level. Many of those that ran out of chips re-entered, too, and 16 new entries in total boosted the field to 91 entries in total.
Many hopefuls went from short stack to big stack and busto in a short time with Kazuhiko Yotsushika and Joshua Zimmerman as the prime examples. Yotsushika doubled Yake Wu and busted to the eventual runner-up soon after while Zimmerman scored two doubles and was among the top stacks. However, the Hong Kong based American failed to crack the aces of Zhiqiang Qian and ran into a set of kings by Qian soon after to go from hero to zero well before the money bubble.
Wongwichit, Chong and Chen all didn't make the cut and they were joined on the rail by such notables as Kilian Loeffler, Lester Edoc, Andre Lettau, James Won Lee, Natalie Teh and Alex Lee to name a few. Just before the money bubble, start-of-day chip leader Graeme Siow bowed out and the bubble itself turned into a cruel affair.
Huge comeback from Lai ends in cruel fashion
Ben Lai saw his hopes of a cash in the Super High Roller reduced to all but one single T-5,000 chip but he was able to double up four times and, thanks to the big blind ante format, spin up the chips to more than a million again.
Pocket aces then played a crucial role on the bubble as Jun Obara was on the verge of sending Kannapong Thanarattrakul with pocket treys and Yake Wu with ace-queen suited to the rail. Wu went runner-runner to a straight and that set up the stone-cold money bubble.
Lai four-bet shoved with black aces and was called by Zhiqiang Qian with pocket sevens. It was no straight or seven that left Lai in disgust but four hearts on the board that gave Qian a winning flush.
It didn't take long to set up the nine-handed final table and among others, Jun Obara and Shenming Yin fell short of taking a seat on the live stream table. Yin was among the top stacks and went on a dramatic decline that culminated in an open-shove with a gutshot, which Wu called with an open-ender and the nut flush draw. Both the turn and river bricked to set up the final nine.
Lee and Wysocki cannot stop Chinese domination
Seven of the nine finalists were from China while the USA's Jamie Lee and Poland's Szymon Wysocki, who came close to reaching the final table in the Red Dragon Main Event also, were aiming to avoid a victory for the most successful nation in Red Dragon history. They both made a pay jump as Lei Yu ran with queens into kings, but Lee was gone in 8th place and Wysocki had to settle for 7th place.
Lee's jam with queen-ten was called by Yin with ace-king and the American missed out on a gutshot, instead, Yin even made aces full on the river. For Wysocki, the grind came to an end one hour later. He managed to double his short stack once but jack-ten was not good enough to do so again when facing the king-queen of Fei Xiong.
The remainder of the final table was a very tight and tense affair. None of the contenders wanted to bow out with a big move and the average dropped below 20 big blinds. Sooner or later, an outburst in quick succession was inevitable and it was Sun that ran hot like the sun to make it all the way and lift the trophy for the winner shots.
New records set in South Korea
The seven-day 13-event series saw 1,735 players compete for a massive ₩4.97BN (~US$4.26 million) in prize money.
Over a third (38%) of the Series' prize money was awarded in the Main Event, which saw 869 players from 20 different countries compete for a sizable ₩1.89BN (~US$1.26M) prize pool, with 108 of them making the money.
The ₩10,000,000 Super High Roller was a close second with its ₩829.73M (~US$712k) prize pool accounting for a further 16.6% of the total series prize money. All major events set new records for the second edition of the Red Dragon festival in South Korea and the popular series of the Asia-Pacific Region will next be heading to Okada Manila on the Philippines in January 2020.
That wraps up the PokerNews live reporting from Jeju, and the next highlights of the poker calendar are just a few days and weeks away.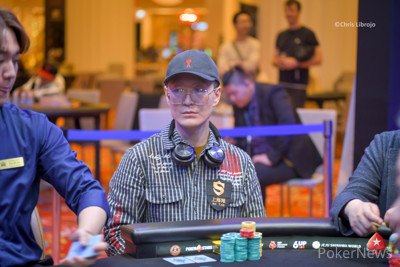 Yake Wu was all in with


and Bin Sun made the call with the


for a mere six big blinds in total.
The board came





and they chopped it up.
One hand later, the chips went in again with Wu hoping for a miracle comeback.
Yake Wu:



Bin Sun:


Neither player hit anything on the





board and ace-eight was good enough to seal the victory for Sun. Wu has to settle for second place and takes home ₩153,087,000 while Sun gets the trophy and top prize of ₩220,295,000.
A recap of today's action is to follow.
Yake Wu pushed all in with the


and Bin Sun called with


.
The board came





and Sun doubled right back. Wu prepared stacks of 40 and both players pushed them over to the other side of the table where the towers fell over and spilled into a big pile next to Sun's chips.
Yake Wu moved all in with the


and Bin Sun was tempted with the


but ultimately tossed them into the muck.
Sun returned the favor by jamming


and Wu let go of


.
Just before the blinds went up, Wu jammed the


and Sun called with


.
The board came





and Wu doubled into the lead.
Nivo:

26
Slepe stave:

150,000/300,000
Ante:

300,000
Yake Wu bet the





river for 675,000 into a pot off 1.6 million as he had made two pair with


and Bin Sun called with


to drop some chips. He remains the overwhelming chip leader.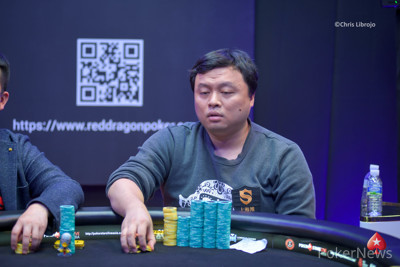 Bin Sun moved all in from the button with the


and Zhiqiang Qian called instantly out of the big blind with the


.
On a board of





, Sun spiked a jack on the turn to send Qian to the rail in 3rd place for a payday of ₩101,228,000.
Sun will enter heads-up with a three-to-one chip lead.
Yake Wu was all in for a few big blinds only and Zhiqiang Qian made the call.
Yake Wu:



Zhiqiang Qian:


Board:





Qian flopped a flush draw to go with his two live cards but Wu held up with king-high to double.
| | | | | | |
| --- | --- | --- | --- | --- | --- |
| Bin Sun | | | | 15,000,000 | |
| Yake Wu | | | | 4,600,000 | 1,300,000 |
| Zhiqiang Qian | | | | 3,200,000 | -2,500,000 |
After playing two or three hands, the final three players asked to take a short break and will be back shortly.