Event Info
| | |
| --- | --- |
| Prijavnina | €5,300 |
| Nagradni sklad | €4,471,700 |
| Players | 922 |
Informacije o trenutnem nivoju
| | |
| --- | --- |
| Nivo | 36 |
| Slepe stave | 250,000 / 500,000 |
| Ante | 500,000 |
€5,300 EPT Main Event
Dan 5 končan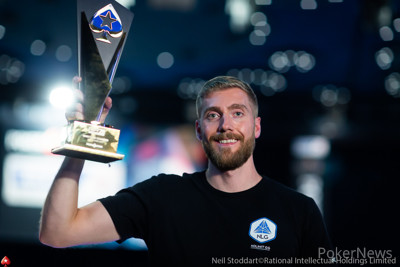 The flagship event of the 2019 PokerStars and Monte-Carlo®Casino European Poker Tour (EPT) festival has come to a conclusion and a new champion has been crowned in the €5,300 Main Event at the Monte-Carlo Sporting.
Throughout two starting days and the following four days, a field of 922 entries has seen a new winner emerge on the ever-popular poker tour and it was Manig Loeser that lifted the trophy for the winner shots in the third-biggest EPT Main Event in the principality of Monaco on the French Riviera.
Final Table Result 2019 EPT Monte-Carlo Main Event
| Place | Player | Country | Prize (in EUR) | Prize (in USD) |
| --- | --- | --- | --- | --- |
| 1 | Manig Loeser | Germany | €603,777* | $676,890 |
| 2 | Wei Huang | China | €552,056* | $618,906 |
| 3 | Viktor Katzenberger | Hungary | €529,707* | $593,772 |
| 4 | Ryan Riess | United States | €265,620 | $297,745 |
| 5 | Nicola Grieco | Italy | €206,590 | $231,576 |
| 6 | Luis Medina | Portugal | €152,800 | $171,280 |
| 7 | Rustam Hajiyev | Azerbaijan | €109,510 | $122,755 |
| 8 | Timothy Adams | Canada | €78,030 | $87,467 |
*reflects deal of the last three players
Loeser went heads-up against Wei Huang from China, who narrowly missed out on becoming the first-ever EPT champion for his home country. Huang was railed by Haoxiang Wang, Yan Li and Pete Chen, his roommate Wang having come close to winning an EPT Main Event in Barcelona last year only to also finish in second place. You can read more about their story on the PokerNews homepage.
Down to the last three players, Loeser and Huang cut a deal with Viktor Katzenberger and left €78,061 and the elusive EPT trophy up for grabs. All three remaining players secured themselves a big portion of the €4,471,700 prize pool, and it was Loeser that received the most of it for a top prize of €603,777 and his second major victory on the live poker circuit. According to his Hendon Mob profile, Loeser currently sits in 10th place in the German all-time money list and will cross $10 million in cashes.
While most had expected a rather short day with six players remaining, it took a total of 273 hands to play down to a champion. Five-handed play lasted for more than nine hours (including breaks) and the final day also featured Luis Medina, Nicola Grieco and 2013 WSOP Main Event champion Ryan Riess, who once again went deep in one of his European exploits.
Riess narrowly missed out on becoming the first player to win the World Series of Poker Main Event in Las Vegas and an EPT Main Event. Kevin MacPhee, John Juanda and Adrian Mateos claimed WSOPE Main Event titles in Europe and also have the EPT Main Event trophy to their name.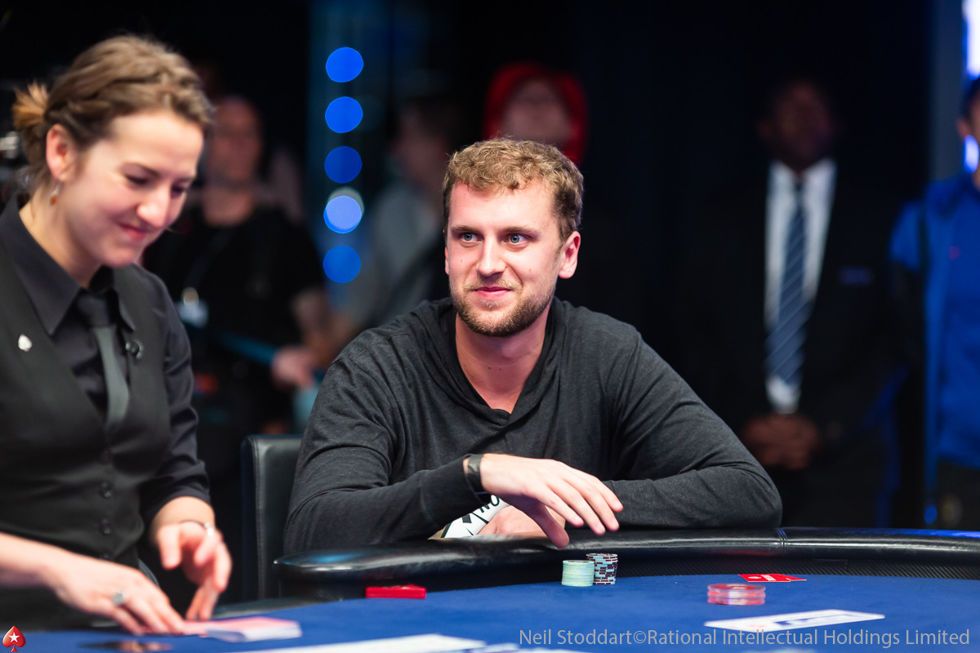 Action of the Final Day
While Luis Medina ran out of chips rather quickly, the battle of the final five contenders turned into an endurance challenge. Ryan Riess, Wei Huang and Nicola Grieco ended up all in and at risk several times without any player running out of fortune for the next nine hours - including breaks and a 45-minute dinner break – to double when urgently needed.
Ultimately, start-of-the-day chip leader Grieco had to settle for fifth place. The Italian had clashed with Wei Huang when his move with six-five suited for second pair was called by Huang, who burned all his remaining time banks with ace-five for the same pair and better kicker. Grieco then got it in with ace-king for six big blinds with ace-king on the button Manig Loeser called with eight-seven. An eight and a seven on the flop gave Loeser two pair and Grieco was left drawing dead on the turn hand #198 of the six-handed final table.
Riess had been short several times and cracked aces with pocket sevens to double up. He also called a shove by Manig Loeser on a double-paired jack-high board with ten-high and was good against six-high to double. However, his run came to a cruel end in 4th place when his queen-trey flopped best against jack-six suited only for Wei Huang to hit a runner-runner straight.
Riess had the following to say in his interview after the elimination.
"I enjoyed it a lot, I'm super grateful. If you're not happy when you don't get first place, you're always going to be miserable. There's a lot of luck in tournament poker; I got really lucky today to get fourth, to get as far as I did so I'm very grateful. I'll be back."
Down to the last three players, Manig Loeser dominated at the top of the counts and took a commanding lead. That all but changed when Wei Huang made a move with a pair and nut flush blocker on an ace-high river and jammed into the bet of Loeser, who had rivered a seven-high straight with seven-four. Two time banks were invested by Loeser and he folded the best hand.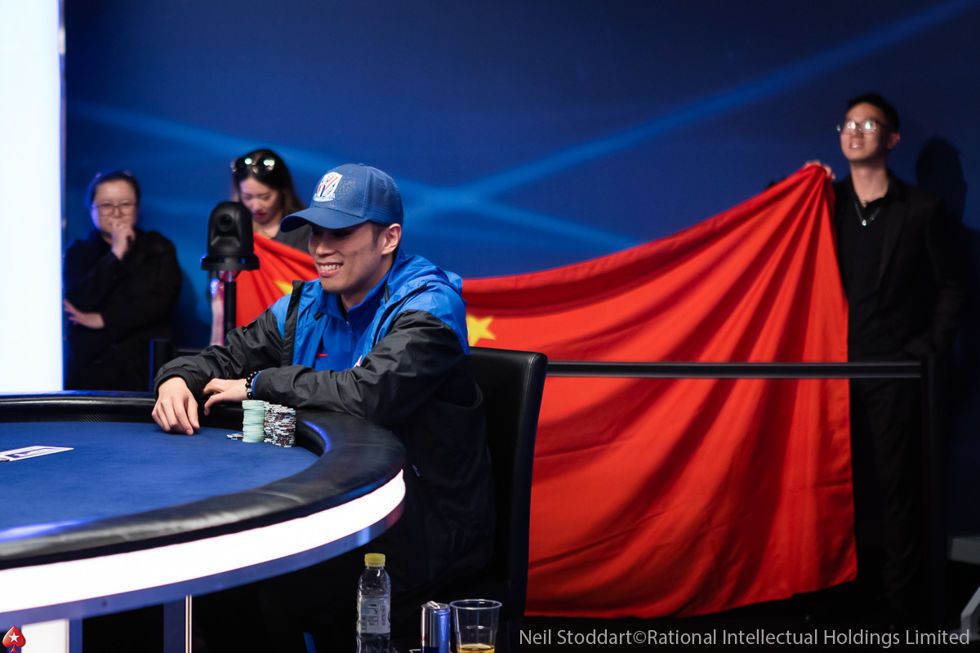 Huang pulled into a small lead before the next break and the final three players then entered another endurance challenge, as ICM deal discussions lasted for almost an hour before the trio came to an agreement.
Once the cards were back in the air, Loeser won a flip with pocket treys against the ace-jack suited of Viktor Katzenberger. The Hungarian, who was railed by fellow countryman Laszlo Bujtas, Marton Czuczor and Andras Nemeth, bowed out shortly after with ace-eight against the ace-king of Huang to set up the duel for the title.
Heads-Up
The chip lead changed a few times until Loeser pulled into a comfortable 2-1 lead. In the final hand of the event, Huang jammed a jack-high turn with king-eight for an open-ender and gutshot. Loeser called with queen-eight suited for the queen-high straight and a blank ace on the river brought the tournament to an end at just after 3 a.m. local time.
While the EPT takes a summer break until the grand spectacle in Barcelona in August 2019, the next PokerStars live events are just around the corner with the EPT Open Madrid in late June, followed by the APPT Manila festival at the end of July.
This concludes the PokerNews live updates from Monte-Carlo and the highly anticipated 50th edition of the World Series of Poker in Las Vegas is right around the corner at the end of May 2019.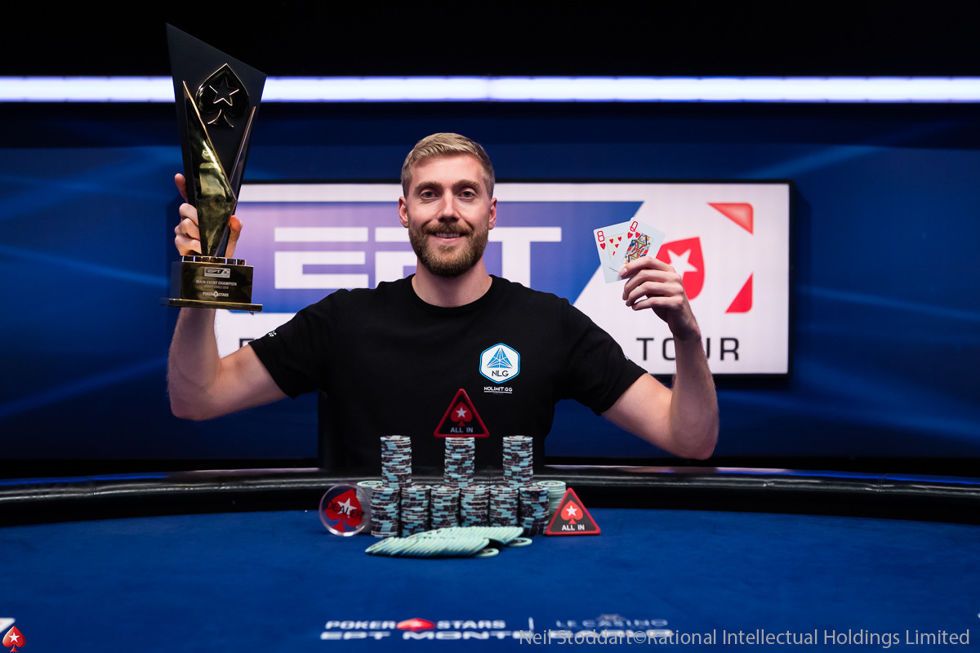 Pictures courtesy of Neil Stoddart / PokerStars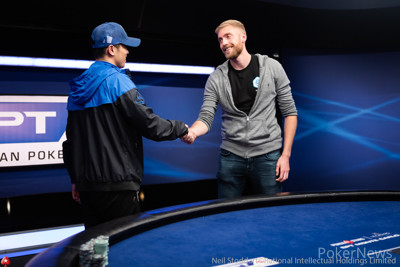 Wei Huang raised to 1,200,000 with


and Manig Loeser defended with


. The flop came down



and both players checked.
Loeser caught exactly what he needed on the

turn, improving his hand to a queen-high straight. Loeser led out for 1,400,000, Huang shoved all in for 8,025,000, and Loeser snap-called.
The sudden all-in-and-a-call had everyone jumping on their feet and the crowd gathered in anticipation of the upcoming river. Only a queen would save Huang's tournament life, but the

came instead and ended the hopes of the Chinese to win their country's first-ever EPT title. Meanwhile, the German rail, including the likes of Rainer Kempe and Koray Aldemir, celebrated their countryman's victory. Loeser ran off to Huang to shake hands and congratulate his opponent who battled him for fifteen hours today.
Huang's tremendous run came to an end in second place, similar to his close friend Haoxiang Wang's accomplishment in the 2018 EPT Barcelona Main Event, and the 34-year old recreational player from Shanghai received the biggest score of his career with €552,056.
With that, Manig Loeser has been crowned the 2019 EPT Monte Carlo Main Event winner! Loeser will take home €603,777 for his accomplishment.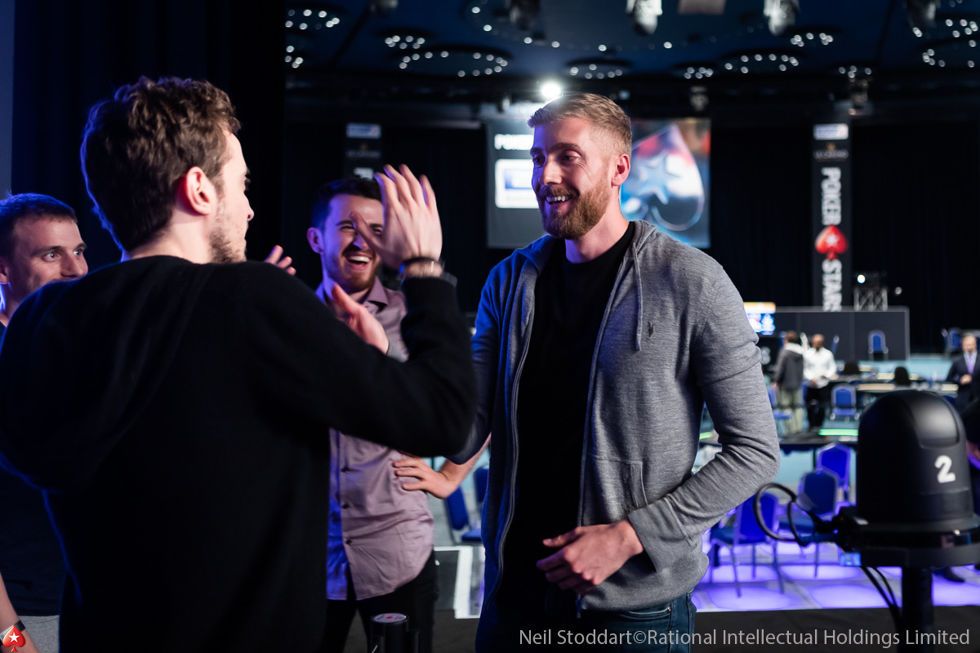 | | | | | | |
| --- | --- | --- | --- | --- | --- |
| Manig Loeser | | | | 27,660,000 | 10,760,000 |
| Wei Huang | | | | Izpadel | |
Wei Huang limped in with


and Manig Loeser checked


. Huang bet 500,000 on a



flop and Loeser called. The

on the turn went check/check. Huang tried it again with a 750,000 bet on the

river but Loeser wasn't having it and correctly called with king-high.
Loeser then limped in with


and Huang checked


. On the



flop, Huang check-folded to a 500,000 bet from the German.
| | | | | | |
| --- | --- | --- | --- | --- | --- |
| Manig Loeser | | | | 16,900,000 | 2,750,000 |
| Wei Huang | | | | 10,725,000 | -2,750,000 |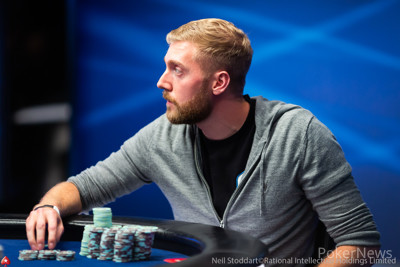 Wei Huang limped in with


and Manig Loeser checked


. The



flop brought top pair for Loeser and he checked. Huang bet 500,000, Loeser check-raised to 2,000,000, and Huang folded.
Loeser then raised


to 1,000,000 and Huang defended


. The flop was



and both players checked. The

on the turn gave Loeser the nut straight and Huang checked to him a second time. Loeser bet 1,100,000 and Huang, drawing dead with his inferior straight draw, called the bet.
The river was the

and Huang check-folded to Loeser's all in shove of 9,450,000, pulling the stacks about equal again.
| | | | | | |
| --- | --- | --- | --- | --- | --- |
| Manig Loeser | | | | 14,150,000 | 4,000,000 |
| Wei Huang | | | | 13,475,000 | -4,000,000 |
Nivo:

36
Slepe stave:

250,000/500,000
Ante:

500,000
Manig Loeser and Wei Huang are on a 10-minute break.
| | | | | | |
| --- | --- | --- | --- | --- | --- |
| Wei Huang | | | | 17,475,000 | 1,200,000 |
| Manig Loeser | | | | 10,150,000 | -1,200,000 |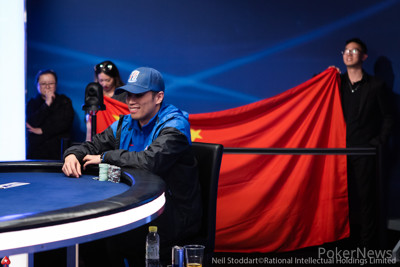 The chip lead has shifted back to Wei Huang in a pot that saw Huang limping in with


, Manig Loeser raising to 1,600,000 with


and Huang calling.
The



flop went check/check and Huang paired up on the

turn, which got checked back and forth again.
The river was the

and Loeser check-called 1,000,000 from Huang with the worst of it.
| | | | | | |
| --- | --- | --- | --- | --- | --- |
| Wei Huang | | | | 16,275,000 | 3,800,000 |
| Manig Loeser | | | | 11,350,000 | -3,800,000 |
Wei Huang limped


in and Manig Loeser checked his option with


. The flop



and turn

turn got checked, promising a split pot.
The river was the

, which put Loeser's better kicker back in play. He bet 800,000 and got a call from Huang.
| | | | | | |
| --- | --- | --- | --- | --- | --- |
| Manig Loeser | | | | 15,150,000 | 1,200,000 |
| Wei Huang | | | | 12,475,000 | -1,200,000 |