€5,300 Main Event
Dan 1b končan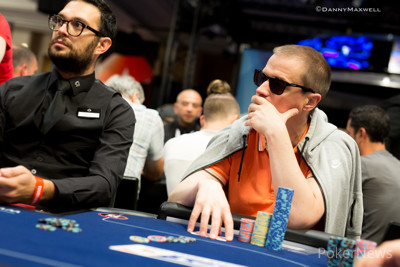 Sun, sea, sand - and lots of poker! Barcelona delivered once again, as the EPT-attendance record from last year's stop was shattered. On Day 1b, 1,291 players put €5,300 on the line to take a shot at the biggest EPT Main Event in history. Combined with Day 1a's total of 468 players, the field already consists unofficially of 1,759 players. With late registration open until the start of Day 2, the new attendance record is expected to be pushed even higher.
Today saw eight levels of 75-minute play and at the end of the day, it was Andrey Sharonov from Russia finishing atop the leaderboard. Sharonov built his starting stack of 30,000 to a whopping 278,600, claiming the overall chiplead for both Day 1a and 1b in the process. Closely following him are, among others, Marco Caza (262,000), Mikhail Molchanov (210,300), Quentin Roussey (170,000), Alin Grasu (190,000) and Miroslav Forman (171,000).
While most players were still trickling in at the start of the day, Vanessa Selbst was already on her way out. The Team PokerStars Pro shoved her king-high into Gaelle Baumann's set of aces, ending her Main Event run within the first hour. Day 1b also didn't favor Daniel Negreanu, Antoine Saout, Johnny Lodden, Sofia Lövgren, Robin Ylitalo, Andre Akkari, Jason Wheeler, Naoya Kihara, and Ismael Bojang, as they all headed to the rail.
A lot of notable players are still in contention, including William Kassouf (79,500), Kitty Kuo (75,200), Janne "Savjz" Mikkonen (73,300), Team PokerStars Pro's George Danzer (71,000), Felipe Ramos (70,700), Jake Cody (62,000) and Bertrand "ElkY" Grospellier (34,100), Gaelle Baumann (63,300), Kristen Bicknell (57,300), Team PokerStars SportStar Fatima Moreira de Melo (55,600), Cate Hall (35,100), Jennifer Shahade (33,600), Viktor Blom (23,300), Xuan Liu (20,000), and Dzmitry Urbanovich (16,000).
Day 2 gets underway on Wednesday at 12 p.m. local time . The PokerNews live reporting team will be on hand to bring you all the action until our champion is crowned on Sunday.
Tournament officials have drawn for the number of hands to be played before players bag up for the night and the answer is three. A recap will follow the conclusion of tonight's play.
After a raise from Antti Marttinnen in middle position, Ismael Bojang moved in for 23,500 total. When it was back on Marttinnen, he called right away to put Bojang at risk. The German juggernaut had


, but was trailing massively against Marttinnen's


.
The board





brought no help to Bojang, who had to make his way towards the exit,
| | | | | | |
| --- | --- | --- | --- | --- | --- |
| Antti Marttinnen | | | | 70,000 | 70,000 |
| Ismael Bojang | | | | Izpadel | |
Uri Reichenstein raises to 1,800 from middle position and Paul Leckey three-bet from the cutoff to 4,100. Leckey moved all in and Reichenstein quickly called.
Reichenstein was ahead with


, but Leckey shrugged as he tabled


, seemingly content to decide his tournament life on the flip of a coin.
The flop was no help for Leckey as it came



. Leckey got to his feet just in time to see the

dealt on the turn. With that, he sat back down to witness the

on the river, securing himself the double up.
"Every time," said Reichenstein, "Someone stands up in a hand and they get there!"
"I used my one time!" said Leckey, counting out his chips.
| | | | | | |
| --- | --- | --- | --- | --- | --- |
| Uri Reichenstein | | | | 88,000 | |
| Paul Leckey | | | | 48,000 | |
Marta Munoz raised to 2,100 from the cutoff and Taylor Black three-bet from the small blind to 6,000.
Munoz look resigned to her fate as she pushed her remaining chips in and Black called instantly. Munoz showed


and Black


.
The board ran out





and Munoz headed to the exit with her bag.
"She wasn't very talkative," said Black matter-of-factly.
| | | | | | |
| --- | --- | --- | --- | --- | --- |
| Taylor Black | | | | 54,000 | |
| Marta Munoz | | | | Izpadel | |
Raffaele Sorrentino opened with


from middle position and got two callers, including Jonathan Concepcion in the big blind. The dealer fanned out



, as perfect as it could get for Sorrentino. The Italian continued with 2,200, the other opponent folded, and Concepcion check-raised to 7,200. Sorrentino smooth-called the raise in position.
On the

turn, Concepcion continued his flop aggression with a bet of 15,000, and once again Sorrentino called. Concepction checked the

river to Sorrentino. It was time for the Italian to come out of the woodworks, and he shoved all in around 40,000. Concepcion considered his options for a while, then slid in a call.
Sorrentino showed his straight and Concepction mucked his hand. As it was an all-in situation, Concepcion was forced to show his holding, and sheepishly turned over


for a pair of sixes.
| | | | | | |
| --- | --- | --- | --- | --- | --- |
| Raffaele Sorrentino | | | | 140,000 | 140,000 |
| Jonathan Concepcion | | | | 40,000 | -70,000 |
As the tournament clock ticks into the last level of the day, players are looking to lock up decent stacks in preparation for Day 2. The mark to beat currently is 178,800 which was Day 1a chip leader [Removed:155]. However, with several stacks exceeding that or nearing it, that figure looks like it will be toppled.
Nivo:

8
Slepe stave:

400/800
Ante:

100
On a flop of



Jenya Gavrilovich bet 1,900 against Omar Lakhdari. Earlier today Lakhdari was taking exception to Gavrilovich tanking for up to a minute each hand pre-flop, but that seems to be in the past. In the middle of a massage, Lakhdari calls instantly, his chips almost beating his opponent's into the pot.
The turn was the

and Gavrilovich bet 4,600. Again, Lakhdari called. The river was the

and this time Gavrilovich checked.
"Why you check?" inquires Lakhdari before moving all in. His opponent composes himself and tanks for a minute or so before calling.
Lakhdari shrugs and flashes


. Gavrilovich shows


and wins the pot with a pair of threes, eliminating his opponent.
As Lakhdari got to his feet to pay for his massage, Gavrilovich looked him dead in the eye: "I'm from Belarus" he said.
The Belarussian now has over 100,000 in chips.
| | | | | | |
| --- | --- | --- | --- | --- | --- |
| Jenya Gavrilovich | | | | 111,000 | |
| Omar Lakhdari | | | | Izpadel | |