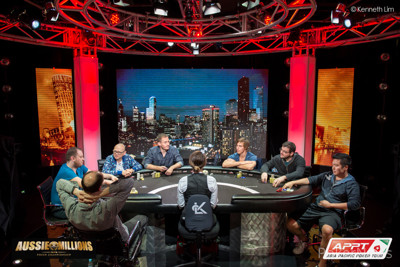 On the first hand of play, the short-stacked Alex Trevallion moved all in and took down the blinds and antes.
On the second hand, something quite peculiar happened. It began innocently enough when Scott Seiver raised to 45,000 from the cutoff seat, and Ole Schemion defended with a call from the big blind. While the action was playing out on the stage, it was also being broadcast on televisions throughout the room for the dozens of spectators to see. The problem in this hand was they got to see a little too much.
For whatever reason, when the dealer fanned the



flop, the graphics being broadcast on the screen included the players' hole cards. Given there is no delay on this feed, the hand was playing out with everyone in the room knowing the holdings of Seiver (


) and Schemion (what looked to be


). Obviously this was a glaring security concern.
It was unaware to the players that their cards were being shown, and neither Seiver nor Schemion saw their opponent's hand.
Schemion then check-raised to 110,000 and Seiver folded.
"Your hole cards were just broadcast on the screen," someone in the audience shouted.
"Are you serious?" Seiver asked. The players then asked if that was the case what did they hold. They received an accurate answer.
Schemion threw his arms up in disbelief while several other players were left shaking their head. By far the most perturbed was Seiver, who stated that he would no longer be showing his cards to the camera. The tournament clock was paused so the staff could correct the situation, and it since has been rectified.
The players were reassured that it was a one-hand mistake and corrected. Indeed, a minute later cards were back in the air without the cards being shown. Despite the quick fix, it was apparent several players, most notably Seiver and Justin Bonomo, were very unhappy with the situation.