PokerStarsovo novo prvenstvo vabi s 50-milijonskim nagradnim skladom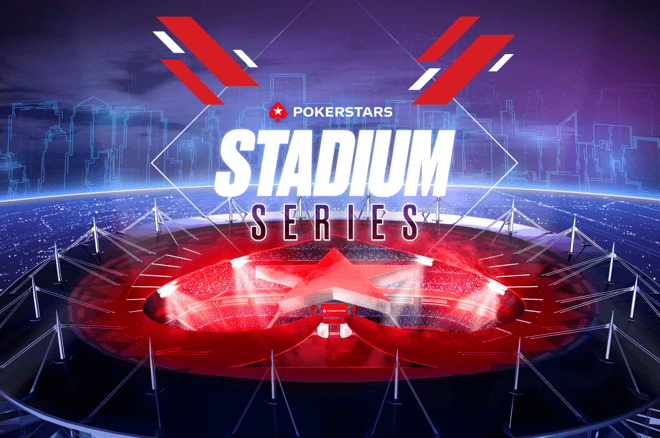 Čeprav so te dni vse oči uprte v dogajanje na prvenstvu WSOP, pa pri PokerStars niso želeli samo spremljati dogajanja, temveč igralcem ponuditi dodaten razlog, da še naprej igrajo tudi na njihovih virtualnih mizah. Njihova rešitev je novo prvenstvo imenovano PokerStars Stadium Series, ki ponuja turnirje s skupnim zagotovljenim nagradnim skladom kar 50 milijonov dolarjev!
To novo prvenstvo bo potekalo od 5. julija do 2. avgusta in bo v tem času postreglo s kar 102 turnirjema.
Kot ponavadi so prvenstvo razdelili v 3 dele, glede na višino prijavnine, pri čemer lahko vsak dan (od ponedeljka do sobote) izbirate med kar 9 turnirji s prijavninami od 5,50$ do 5.200$, medtem ko vas ob nedeljah čaka le 6 turnirjev, ki pa so zato še precej večji in bogatejši!
To pa še ni vse, turnirji se med seboj razlikujejo še po 1 pomembni razliki. Turnirji, ki so organizirani od ponedeljka do sobote spadajo v razred Stadium Series Heats, medtem ko so nedeljski turnirji tipa Sunday Series Sunday Finals. To sicer nima vpliva na samo dogajanje na posameznem turnirju, vendar pa dobre predstave na turnirjih serije "Heats", najboljšim prinašajo vstopnice za nedeljske turnirje, kjer se delijo največje nagrade.
Če to ni zadosten razlog, da se pridružite dogajanju, pa vas bo morda prepričalo to – vsak finalist katerega od nedeljskih turnirjev, bo namreč prejel vstopnico za turnir 5-milijonski turnir Stadium Series Grand Final v vrednosti 5.200$!
Tudi če si vstopnice za finale ne boste uspeli priigrati, pa to še ne pomeni, da boste ostali brez nastopa na zaključnem turnirju.
Svoje mesto si lahko namreč zagotovite tudi z direktnim plačilom prijavnine. Ker pa pri PokerStars vedo, da je za večino pokerašev 5.200$ preveč za enkratni turnirski nastop, so pripravili še 2 manjši različici turnirja Grand Final, na katerih se lahko za 530$ borite za svoj kos 2-milijonske pogače, za vsega 5,50$ pa za delež zagotovljenega nagradnega sklada v višini kar 1.000.000$!!!
Promocija Stadium Series Trials
Do svoje vstopnice za finalni turnir lahko pridete tudi prek promocije Stadium Series Trials. V sklopu te promocije boste z nastopi na MTT turnirjih zbirali posebne promocijske točke. V primeru, da boste do 1. avgusta priplezali med 125 najbolje uvrščenih na skupni lestvici, bo vaša ena od 25 Grand Final vstopnic v vrednosti 5.200$ ali pa ena od 100 vstopnic za turnir Stadium Series Fast Track Final v vrednosti 1.050$.
Spored prvenstva Stadium Series 2020
| Termin | Začetek | Turnir |
| --- | --- | --- |
| 5. julij | 19:05 | Stadium Series Heat 01-L: $5.50 NLHE [8-Max], $125K Gtd |
| | 19:05 | Stadium Series Heat 01-M: $55 NLHE [8-Max], $400K Gtd |
| | 19:05 | Stadium Series Heat 01-H: $530 NLHE [8-Max], $750K Gtd |
| | 21:30 | Stadium Series Heat 02-L: $5.50 NLHE [Progressive KO], $75K Gtd |
| | 21:30 | Stadium Series Heat 02-M: $55 NLHE [Progressive KO], $300K Gtd |
| | 21:30 | Stadium Series Heat 02-H: $530 NLHE [Progressive KO], $500K Gtd |
| 6. julij | 19:05 | Stadium Series Heat 03-L: $5.50 NLHE [6-Max, Progressive KO], $75K Gtd |
| | 19:05 | Stadium Series Heat 03-M: $55 NLHE [6-Max, Progressive KO], $200K Gtd |
| | 19:05 | Stadium Series Heat 03-H: $530 NLHE [6-Max, Progressive KO], $350K Gtd |
| 7. julij | 19:05 | Stadium Series Heat 04-L: $5.50 NLHE, $50K Gtd |
| | 19:05 | Stadium Series Heat 04-M: $55 NLHE, $150K Gtd |
| | 19:05 | Stadium Series Heat 04-H: $530 NLHE, $250K Gtd |
| 8. julij | 19:05 | Stadium Series Heat 05-L: $5.50 NLHE [6-Max], $75K Gtd |
| | 19:05 | Stadium Series Heat 05-M: $55 NLHE [6-Max], $150K Gtd |
| | 19:05 | Stadium Series Heat 05-H: $530 NLHE [6-Max], $250K Gtd |
| 9. julij | 19:05 | Stadium Series Heat 06-L: $5.50 NLHE [8-Max, Progressive KO], $75K Gtd |
| | 19:05 | Stadium Series Heat 06-M: $55 NLHE [8-Max, Progressive KO], $250K Gtd |
| | 19:05 | Stadium Series Heat 06-H: $530 NLHE [8-Max, Progressive KO], $500K Gtd |
| 10. julij | 19:05 | Stadium Series Heat 07-L: $5.50 NLHE [Deep Stack], $50K Gtd |
| | 19:05 | Stadium Series Heat 07-M: $55 NLHE [Deep Stack], $150K Gtd |
| | 19:05 | Stadium Series Heat 07-H: $530 NLHE [Deep Stack], $250K Gtd |
| 11. julij | 19:05 | Stadium Series Heat 08-L: $5.50 NLHE [Progressive KO], $75K Gtd |
| | 19:05 | Stadium Series Heat 08-M: $55 NLHE [Progressive KO], $200K Gtd |
| | 19:05 | Stadium Series Heat 08-H: $530 NLHE [Progressive KO], $350K Gtd |
| 12. julij | 19:05 | Stadium Series Freezeout Weekly Final - Low: $5.50 NLHE [8-Max], $150K Gtd |
| | 19:05 | Stadium Series Freezeout Weekly Final - Medium: $55 NLHE [8-Max], $500K Gtd |
| | 19:05 | Stadium Series Freezeout Weekly Final - High: $530 NLHE [8-Max], $1M Gtd |
| | 21:30 | Stadium Series Heat 09-L: $11 NLHE, $175K Gtd |
| | 21:30 | Stadium Series Heat 09-M: $109 NLHE, $400K Gtd |
| | 21:30 | Stadium Series Heat 09-H: $1,050 NLHE, $500K Gtd |
| 13. julij | 19:05 | Stadium Series Heat 10-L: $11 NLHE [6-Max, Progressive KO], $175K Gtd |
| | 19:05 | Stadium Series Heat 10-M: $109 NLHE [6-Max, Progressive KO], $350K Gtd |
| | 19:05 | Stadium Series Heat 10-H: $1,050 NLHE [6-Max, Progressive KO], $500K Gtd |
| 14. julij | 19:05 | Stadium Series Heat 11-L: $11 NLHE, $125K Gtd |
| | 19:05 | Stadium Series Heat 11-M: $109 NLHE, $250K Gtd |
| | 19:05 | Stadium Series Heat 11-H: $1,050 NLHE, $400K Gtd |
| 15. julij | 19:05 | Stadium Series Heat 12-L: $11 NLHE [6-Max], $125K Gtd |
| | 19:05 | Stadium Series Heat 12-M: $109 NLHE [6-Max], $250K Gtd |
| | 19:05 | Stadium Series Heat 12-H: $1,050 NLHE [6-Max], $500K Gtd |
| 16. julij | 19:05 | Stadium Series Heat 13-L: $11 NLHE [8-Max, Progressive KO], $200K Gtd |
| | 19:05 | Stadium Series Heat 13-M: $109 NLHE [8-Max, Progressive KO], $500K Gtd |
| | 19:05 | Stadium Series Heat 13-H: $1,050 NLHE [8-Max, Progressive KO], $750K Gtd |
| 17. julij | 19:05 | Stadium Series Heat 14-L: $11 NLHE [Deep Stack], $125K Gtd |
| | 19:05 | Stadium Series Heat 14-M: $109 NLHE [Deep Stack], $250K Gtd |
| | 19:05 | Stadium Series Heat 14-H: $1,050 NLHE [Deep Stack], $400K Gtd |
| 18. julij | 19:05 | Stadium Series Heat 15-L: $11 NLHE [Progressive KO], $200K Gtd |
| | 19:05 | Stadium Series Heat 15-M: $109 NLHE [Progressive KO], $350K Gtd |
| | 19:05 | Stadium Series Heat 15-H: $1,050 NLHE [Progressive KO], $500K Gtd |
| 19. julij | 19:05 | Stadium Series Freezeout Weekly Final - Low: $11 NLHE [8-Max], $500K Gtd |
| | 19:05 | Stadium Series Freezeout Weekly Final - Medium: $109 NLHE [8-Max], $1.5M Gtd |
| | 19:05 | Stadium Series Freezeout Weekly Final - High: $1,050 NLHE [8-Max], $1.5M Gtd |
| | 21:30 | Stadium Series Heat 16-L: $22 NLHE, $275K Gtd |
| | 21:30 | Stadium Series Heat 16-M: $215 NLHE, $500K Gtd |
| | 21:30 | Stadium Series Heat 16-H: $2,100 NLHE, $500K Gtd |
| 20. julij | 19:05 | Stadium Series Heat 17-L: $22 NLHE [6-Max, Progressive KO], $275K Gtd |
| | 19:05 | Stadium Series Heat 17-M: $215 NLHE [6-Max, Progressive KO], $500K Gtd |
| | 19:05 | Stadium Series Heat 17-H: $2,100 NLHE [6-Max, Progressive KO], $500K Gtd |
| 21. julij | 19:05 | Stadium Series Heat 18-L: $22 NLHE, $200K Gtd |
| | 19:05 | Stadium Series Heat 18-M: $215 NLHE, $400K Gtd |
| | 19:05 | Stadium Series Heat 18-H: $2,100 NLHE, $500K Gtd |
| 22. julij | 19:05 | Stadium Series Heat 19-L: $22 NLHE [6-Max], $200K Gtd |
| | 19:05 | Stadium Series Heat 19-M: $215 NLHE [6-Max], $400K Gtd |
| | 19:05 | Stadium Series Heat 19-H: $2,100 NLHE [6-Max], $500K Gtd |
| 23. julij | 19:05 | Stadium Series Heat 20-L: $22 NLHE [8-Max, Progressive KO], $300K Gtd |
| | 19:05 | Stadium Series Heat 20-M: $215 NLHE [8-Max, Progressive KO], $750K Gtd |
| | 19:05 | Stadium Series Heat 20-H: $2,100 NLHE [8-Max, Progressive KO], $1M Gtd |
| 24. julij | 19:05 | Stadium Series Heat 21-L: $22 NLHE [Deep Stack], $200K Gtd |
| | 19:05 | Stadium Series Heat 21-M: $215 NLHE [Deep Stack], $400K Gtd |
| | 19:05 | Stadium Series Heat 21-H: $2,100 NLHE [Deep Stack], $500K Gtd |
| 25. julij | 19:05 | Stadium Series Heat 22-L: $22 NLHE [Progressive KO], $300K Gtd |
| | 19:05 | Stadium Series Heat 22-M: $215 NLHE [Progressive KO], $500K Gtd |
| | 19:05 | Stadium Series Heat 22-H: $2,100 NLHE [Progressive KO], $500K Gtd |
| 26. julij | 19:05 | Stadium Series Freezeout Weekly Final - Low: $22 NLHE [8-Max], $500K Gtd |
| | 19:05 | Stadium Series Freezeout Weekly Final - Medium: $215 NLHE [8-Max], $1.5M Gtd |
| | 19:05 | Stadium Series Freezeout Weekly Final - High: $2,100 NLHE [8-Max], $1.5M Gtd |
| | 21:30 | Stadium Series Heat 23-L: $55 NLHE, $300K Gtd |
| | 21:30 | Stadium Series Heat 23-M: $530 NLHE, $750K Gtd |
| | 21:30 | Stadium Series Heat 23-H: $5,200 NLHE, $1M Gtd |
| 27. julij | 19:05 | Stadium Series Heat 24-L: $55 NLHE [6-Max, Progressive KO], $250K Gtd |
| | 19:05 | Stadium Series Heat 24-M: $530 NLHE [6-Max, Progressive KO], $500K Gtd |
| | 19:05 | Stadium Series Heat 24-H: $5,200 NLHE [6-Max, Progressive KO], $500K Gtd |
| 28. julij | 19:05 | Stadium Series Heat 25-L: $55 NLHE, $200K Gtd |
| | 19:05 | Stadium Series Heat 25-M: $530 NLHE, $500K Gtd |
| | 19:05 | Stadium Series Heat 25-H: $5,200 NLHE, $500K Gtd |
| 29. julij | 19:05 | Stadium Series Heat 26-L: $55 NLHE [6-Max], $200K Gtd |
| | 19:05 | Stadium Series Heat 26-M: $530 NLHE [6-Max], $500K Gtd |
| | 19:05 | Stadium Series Heat 26-H: $5,200 NLHE [6-Max], $500K Gtd |
| 30. julij | 19:05 | Stadium Series Heat 27-L: $55 NLHE [8-Max, Progressive KO], $400K Gtd |
| | 19:05 | Stadium Series Heat 27-M: $530 NLHE [8-Max, Progressive KO], $1M Gtd |
| | 19:05 | Stadium Series Heat 27-H: $5,200 NLHE [8-Max, Progressive KO], $500K Gtd |
| 31. julij | 19:05 | Stadium Series Heat 28-L: $55 NLHE [Deep Stack], $200K Gtd |
| | 19:05 | Stadium Series Heat 28-M: $530 NLHE [Deep Stack], $500K Gtd |
| | 19:05 | Stadium Series Heat 28-H: $5,200 NLHE [Deep Stack], $500K Gtd |
| 1. avgust | 19:05 | Stadium Series Heat 29-L: $55 NLHE [Progressive KO], $250K Gtd |
| | 19:05 | Stadium Series Heat 29-M: $530 NLHE [Progressive KO], $500K Gtd |
| | 19:05 | Stadium Series Heat 29-H: $5,200 NLHE [Progressive KO], $500K Gtd |
| 2. avgust | 19:05 | Stadium Series Freezeout Grand Final - Low: $55 NLHE [8-Max], $1M Gtd |
| | 19:05 | Stadium Series Freezeout Grand Final - Medium: $530 NLHE [8-Max], $2M Gtd |
| | 19:05 | Stadium Series Freezeout Grand Final - High: $5,200 NLHE [8-Max], $5M Gtd |
| | 21:30 | Stadium Series Wrap-Up: $109 NLHE, $500K Gtd |
| | 21:30 | Stadium Series Wrap-Up: $1,050 NLHE, $1M Gtd |
| | 21:30 | Stadium Series Wrap-Up: $10,300 NLHE, $1M Gtd |